African fathers are useless, their sons end up criminals and overcrowding English prisons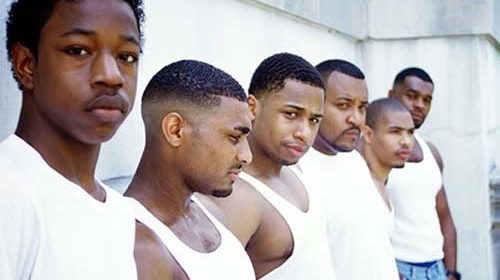 Across urban England, in overcrowded, blackened cities of London, Manchester, Luton, Leicester, Birmingham, Slough – the gun and gang culture among immigrant nigger youth has spread faster than Blair, Labour and the Home Office forecasted.
Three towns and cities have joined London in having a minority White British population.
Researchers say more than 50 per cent of people living in Leicester, Luton and Slough are either foreign or from an ethnic minority.  Birmingham is expected to have a similar make-up by 2020.
South London is one of the worst affected areas, in which resident in the area are no longer surprised or shocked about hearing gun shots ringing out during the day. Immigration and Scotland Black have allowed black gang crime to become systemic.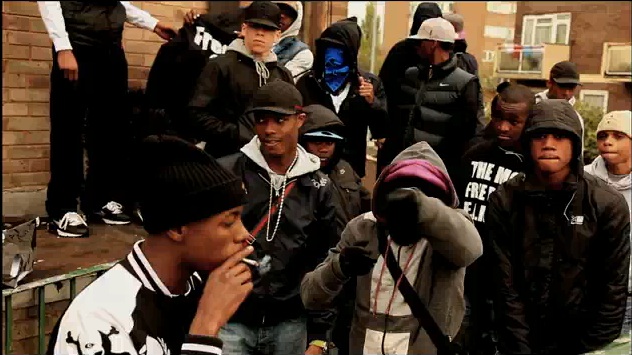 Blacks are Useless Fathers
Why?  AWOL from the family home.
Breeding is easy-peasy.  African fathers have no idea after the act.  Their backward thinking is that rearing kids is the job of the mother.  To check a sons aggressive behaviour, how to be a man?  Sure.
So the nigger boys get their security outside the home from older gang leaders and not in the protection of their father.   So they can't read, write or add up; Then the slipper slope starts. They get violent, get expelled from school, don't trust police, parents, religious leaders or teachers.  They mix with bad retarded niggers in drop crotch nappies.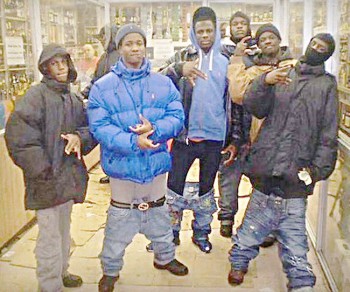 Rheumatoid Niggers without belts
African fathers dump their shit on the First World like Britain.
Many are black youths are aged in their twenties.  Nigger gang members' essential accessory is carrying a concealed weapon (typically a knife) in the same way a handbag is to a woman.
"Wees do inventory checks before we leaves our homes", said one young bro, "I carry my blood type around with me, just in case I get stabbed or shot somewhere".
Father gives a toss, if he's at home.  Usually the black dad is AWOL, rooting around, who knows?
Poverty is no an excuse.   Niggers have big head space, talk loud, play loud music, walk with a swagger and get easily rattled and aggressive.  It's the Big Man culture fully imported from deepest darkest.
The black kids just get bored.  In the absence of a male role model, many male nigger youth emulate negative, violent lifestyles popularized by gangster rappers and celebrities, like Wiley, Kano, Skepta, Giggs, Chip and Roots Manuva – whatever.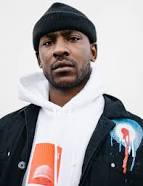 Nigerian Joseph Junior Adenuga, a Grime singer with black attitude, who calls himself 'Skepta'
So the black boys turn to gangs, crime, drugs – and so prison.
Chief Executive, Tony Sewell of the charity "Generating Genius" stated, "The most influential driving forces inside the souls of these young men – are sexual and aggressive".
British demographics reveal that 59% of black Caribbean kids live in lone-parent households compared with 22% of white kids.  In London, Caribbean niggers number 321,300, now 4.3% of London – scary.
Thanks to the Labour Party's encouraged mass immigration from the Third World under Tony Blair to boost Labour voters, London's 7.5 million population is 12% black, including those of mixed black and white parentage, and 19% brown or yellow.  Just 69% are White.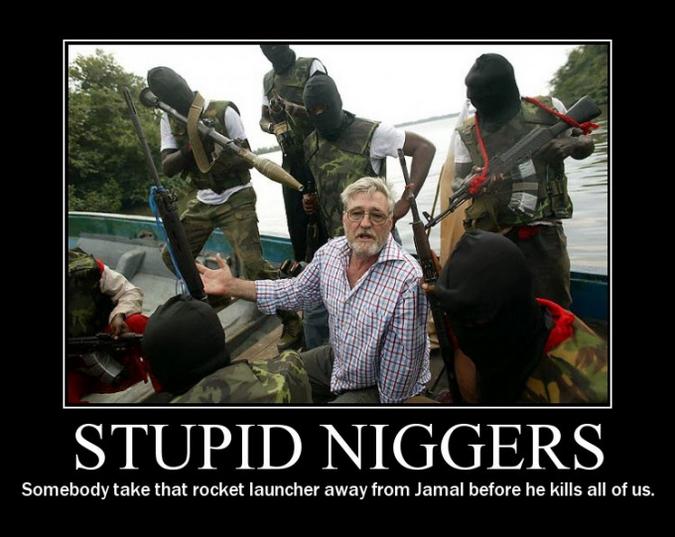 Nigger on Nigger Crime
Scotland Yard statistics in 2010 confirm that the majority of violent inner-city crime across Britain is being committed by black men.  Also, black men are twice as likely to be victims of such crimes. So its nigger on nigger.    Police hold black men responsible for more than two-thirds of shootings and more than half of robberies and street crimes in London.
The data, which provides the ethnicity of the 18,091 men and boys who police took action against in London during 2009-10, looked at both violent and sexual offences.  It found that 67 per cent of those caught by police for gun crimes were black.
Among those proceeded against for street crimes, including muggings, assault with intent to rob and snatching property, 54 per cent were black males.  On sex offences, black men made up 32 per cent of all male suspects, with 49 per cent of those apprehended by police.   In 2009-20101, out of 2,882 of male victims of shootings with 832 were black.
The statistics also suggest that police hold black women accountable for a disproportionate amount of violent crime.
On knife crime, 45 per cent of suspected female perpetrators were black.  Among those women and girls police took action against for gun crime, 58 per cent were black and in robberies that figure was 52 per cent.
If one scans the series of murder victims photos in the London Teenage Murder page, it is clear that the largest majority of the victims are from a Black African and Black Caribbean heritage; where offenders have been caught and prosecuted, the majority are also Black.
Similarly, the profile of serious Youth violence also suggests a disproportionate number of Black young men are the victims of serious violence, and perpetrators of serious violence.
Based upon a Freedom of Information request to the Metropolitan police the Telegraph newspaper reported that:
"The data provide a breakdown of the ethnicity of the 18,091 men and boys who police took action against for a range of violent and sexual offences in London in 2009-10.
They show that among those proceeded against for street crimes, 54 per cent were black; for robbery, 59 per cent; and for gun crimes, 67 per cent. Street crimes include muggings, assault with intent to rob and snatching property."
Prisons Overcrowded by Niggers
So Britain's city streets are dangerous with these nigger thugs roaming, and Britain's prisons are overcrowded by blacks.
Out of the British national prison population, 10% are black and 6% are Asian. For black Britons this is significantly higher than the 2.8% of the general population they represent. Overall black prisoners account for the largest number of minority ethnic prisoners (49%).
Winston Green prison, HMP Birmingham, just had a riot this week – overcrowded, underfunded, reduced staffing, shit food, drugs, no hot water in winter and too many niggers.
Some 600 rioted in four of the gaol wings.  The outsourced private firm G4S couldn't cope so the government sent in specialist Tornado riot teams to sort it out.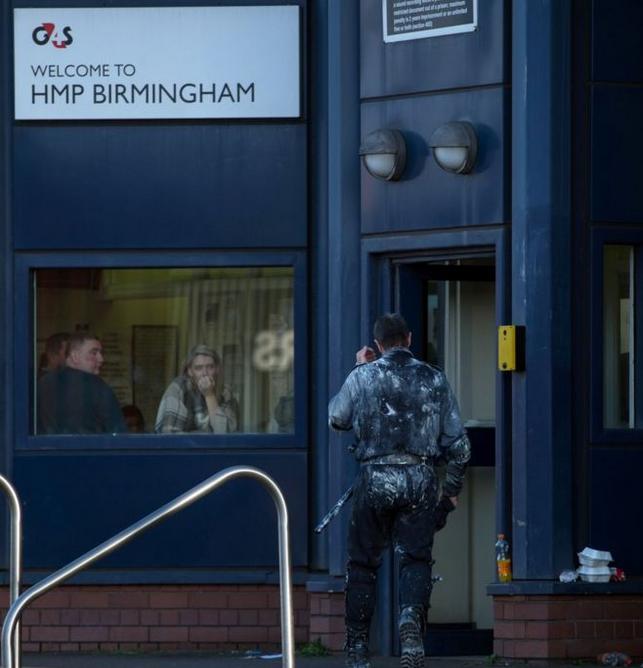 It was the third serious prison disturbance in the past six weeks after Lewes and Bedford.
Mike Rolfe, national chairman of the Prison Officers' Association, said more than 30 staff had left the Winson Green prison in recent weeks.
"We've been warning for a long time about the crisis in prisons and what we are seeing at Birmingham is not unique to Birmingham, but it certainly would seem that this is the most recent worst incident since the 1990 Strangeways riot," he said.
In April 2009, there was a riot at Ashwell prison in Rutland involving 400 inmates. It caused such extensive damage to three wings in the old part of the jail, the entire prison closed permanently in January 2011 because the cost of repairs would have been too great.
The government's bandaid solution?
Just shift the problem to other prisons, and spend more taxpayers' money on building more.
Chief executive of the National Offender Management Service Agency, Michael Spurr, wants £1.3 billion for new prisons over the next five years.  Some of that may wel end up being used to repair the existing damaged prisons.
Meanwhile, the niggers keep arriving in Britain welfare seeking.
Best to auto-deport all migrants back to where they came from.  That way our streets will be safer, brighter and the prisons will be back to being half full and able to cope with home grown criminals.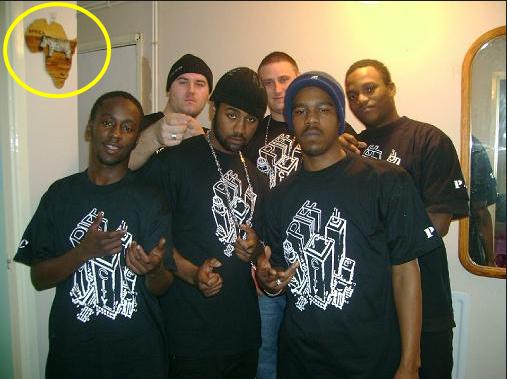 African Dreaming so send dem back there!