Bridget Harilaou is the squealing feral piglet caught illegally in Australia's Parliament in Canberra, shrieking out a drug-induced toddler tantrum that got televised across the nation for the nightly news on November 30, 2016.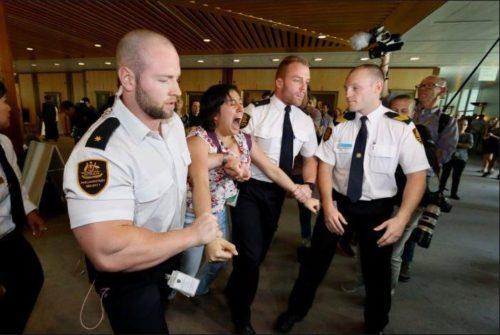 Bridget Harilaou arrested for illegal trespass in Parliament and suspected of being influenced by ICE (methamphetamine)
Watch ABC video of Bridget Harilaou's drug addicted behaviour.
What was the bitch squealing about?  Third World illegals who had paid people smugglers and now demanding an easy life on Australian taxpayer welfare.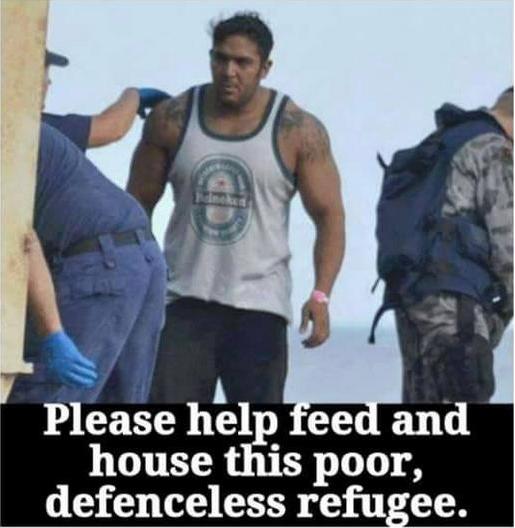 So give a toss!
The sitting Parliament was undemocratically interrupted during Question Time by an anarchist rabble in the Public Gallery who had been signed in by a Labour MP.  While most in the parliamentary chamber were aghast at the screaming disruption from on high, conspicuously untroubled and ready for the feral outburst were Labor and The Greens.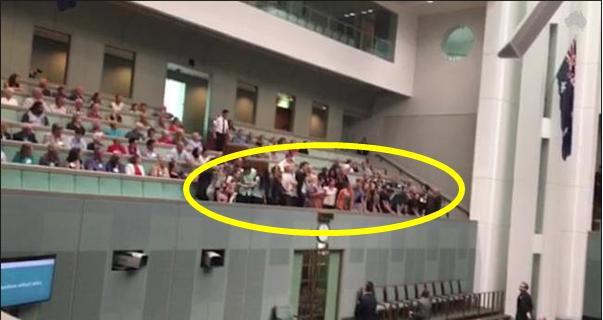 Bridget Harilaou orders anarchists to super-glue their hands to the Public Gallery banister in Parliament
Indeed, Bill Shorten had had his support speech pre-prepared because his backstabber in waiting, Tanya Plibersek had arranged the whole stunt.
The hateful imported bitch wrote Bill's brief attack speech:
'The reason the Labor Party stayed in here today is because we will never give in to those who wish to shut this Parliament down. No matter what the protest, no matter who tries it or what the issue they think it is, this is the exact opposite of democracy.'
Yawn.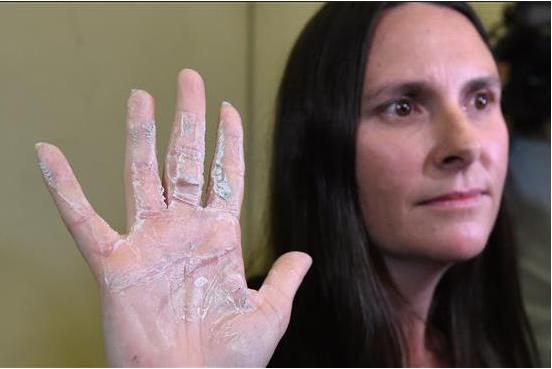 The anarchists' glue didn't stick – cheap imitation made in China
Bridget Harilaou leads roudy protest: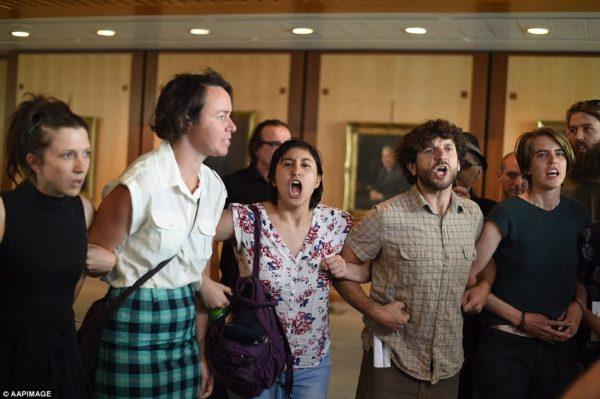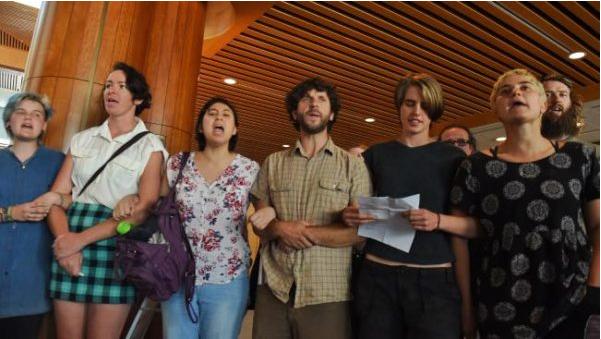 It is the sort of juvenile student prank typical of unemployable students at UTS and nearby Sydney University, both situated just walking distance from Tanya Plibersek's office.  The inner Sydney precinct is riddled with its underhand anarchist connections.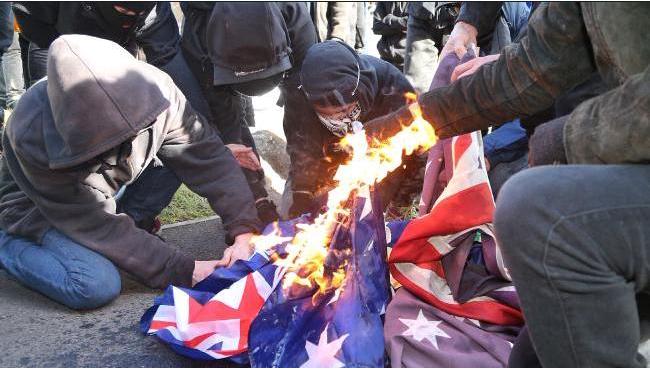 Liberal Senator James McGrath was more apt with his take on the smelly feral outburst:
    "A bunch of bong-sniffing, dole-bludging, moss-munching, glue-guzzling, K-Mart Castros are again vandalising Parliament. And stopping other opinions being heard. These grubs should be made to pay for their damage and have the book thrown at them. As the Greens support their action, then the Greens should stump up the money."
And he's right.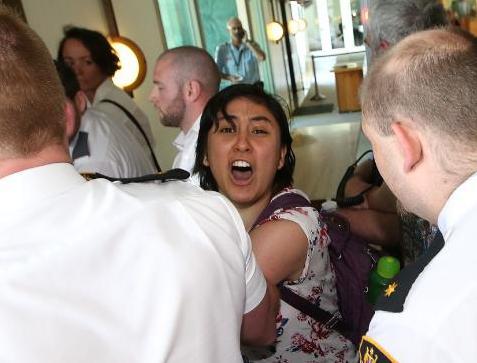 Bridget Harilaou (22) is a serial public nuisance.  It is an imported Armenian-Indonesian mixed-race mongrel, a feminazi lesbian squatting in inner Sydney.  It's attitude is unemployable with a bare pass useless Arts degree at the former Sydney University studying 'globalism', 'multiculturalism' and 'diversity'.  It has activist form as a feral Left blogger on the university's deviant blogsite, 'Honi Soit' (French for 'shameful shit').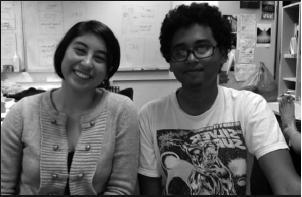 It's diagnosed with ADHD and scamming Centrelink payments to fund its violent anarchist activism through the University of Sydney Union where it wasted most of its uni time before doing yoga classes afterwards.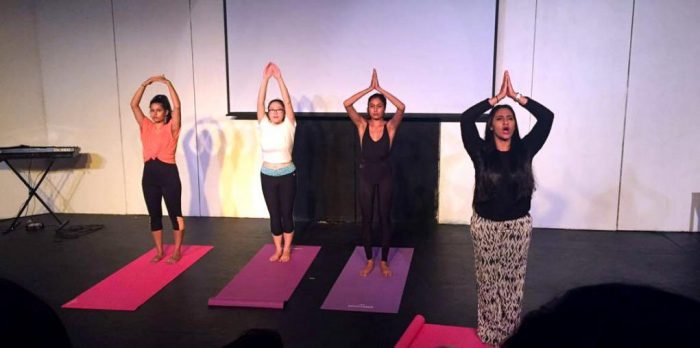 Pemerintah Indonesia and Badan Intelijen Negara may be interested by the fact that on 30 Nov 2016, Bridget Harilaou and its anti-government extremist group of feral anarchists calling itself a Whistleblowers Activists and Citizens Alliance (WACA), a social media activist group. On its website,  WACA states: "WACA is unapologetic in its commitment to resistance through direct action. When our leaders refuse to act, the community must step forward, take action and lead the way."
So on November 30, numbering around 30, WACA broke into Australia's Parliament illegally and caused mass protest inside The House pf Representatives disrupting Question Time and forcing parliamentary proceedings to be suspended for almost an hour.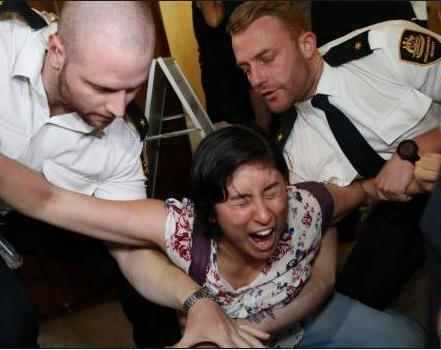 The group had linked arms, resisting security guards' attempts to remove them from the public viewing area, and also glued themselves to handrails, causing considerable damage.
They chanted from the peanut gallery shouting "close the camps" and "bring them here".
About eight members of Parliament House's internal security detail grappled with the protesters, dragging them out one by one, as uniformed federal police took about 15 minutes to arrive on the scene.
Bridget Harilaou is seen here screaming while being removed from Parliament House.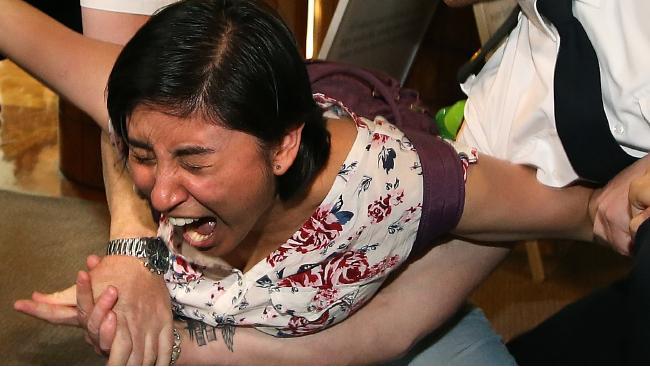 The protestors were escorted from Parliament House and arrested. The Australian Federal Police said their investigation was ongoing and charges are expected to be laid.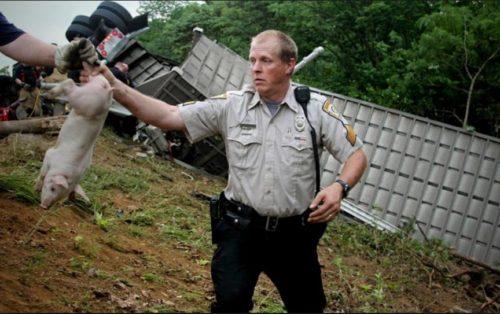 Immigration Minister Peter Dutton said one of Thursday's protesters was arrested earlier this month for climbing on the roof of his electorate office.
Bridget Harilaou of course is a diehard Hillary Clinton disciple and so went into deep depression when Trump trumped its idol.
Bridget Harilaou is active in social media and participates in transnational feminist activism having made several recent trips to Indonesia linking up with Indonesia's Siti Ruhaini Dzuhayatin, Nahdlatul Ulama and the Muhammadiyah feminist movement.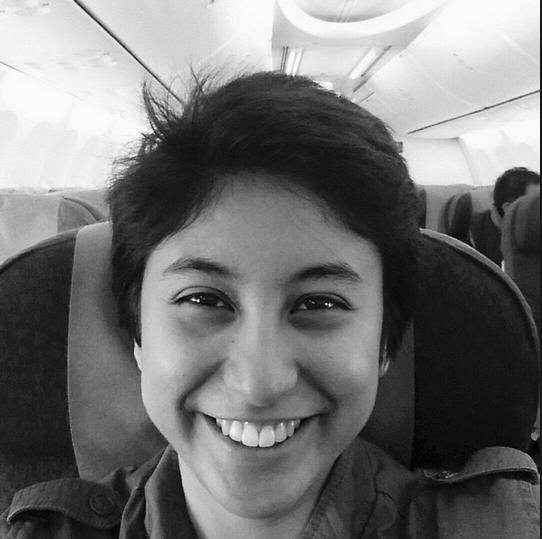 She has since scammed a gig in muslim Indonesia to convert to islam at Universitas Gadjah Mada in Yogyakarta through its yogi feminazi connections.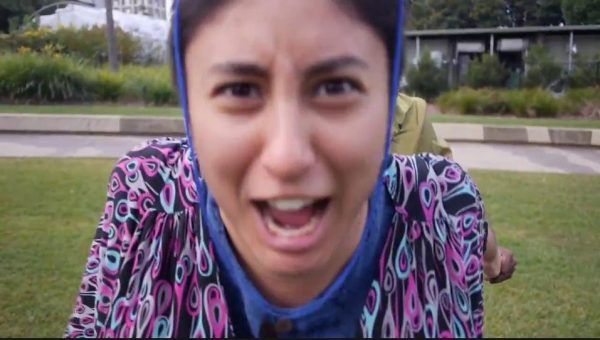 Its criminal behaviour may interest to the Dean of the Faculty of Cultural Sciences, Dr. Pujo Semedi Hargo Yuwono.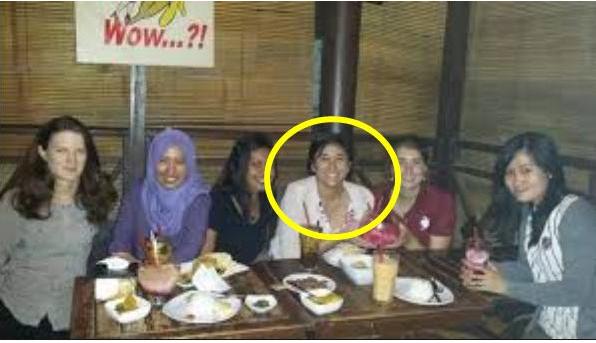 No doubt the piglet Bridget Harilaou will cause problems for the Indonesian authorities.
And here she is again in 2015 cavorting with a sodomist in Indonesia while she campaigns for homosexuality, illegal deviant marriage and feminism for native Indonesians.  She is believed to have links to Muhammadiyah and Nahdlatul Islam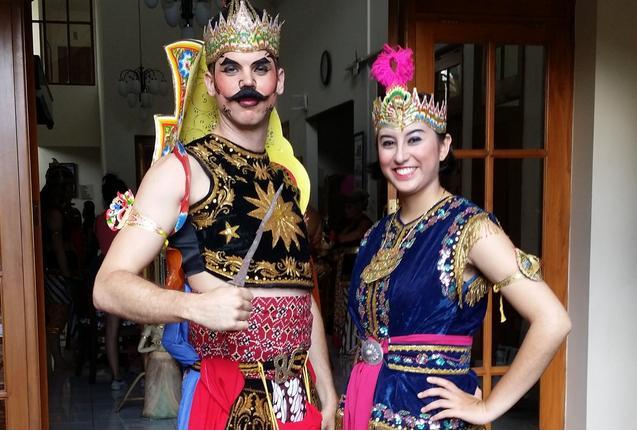 Bridget Harilaou propagating homosexuality at Universitas Gadjah Mada, against the wishes of Prof. Dwikorita Karnawati.