Hillary Clinton a Corrupt Liar

Hillary Clinton is a liar, corrupt and a traitor to America.
Out of the frying pan and into the fire. On July 6, Attorney General Loretta Lynch announced that the Justice Department would not pursue criminal charges against the presumptive Democratic presidential nominee for her use of a private email server at the State Department. But the following day, with that criminal investigation closed, the State Department reopened its own probe into the emails, the AP reported.
State Department spokesman John Kirby told the AP that it would be looking at potential mishandling of classified information by Hillary Clinton and her top aides. Former officials could face administrative sanctions, including a loss of their security clearances—a step that would be both politically embarrassing for Clinton, and complicate efforts to staff a national-security team should she prevail in November.
It's a reminder that although the result of the criminal investigation was more or less a foregone conclusion after FBI Director James Comey's July 5 recommendation that Clinton not be charged with any crimes over her use of a private email server while secretary of state, it didn't deliver the absolution Clinton might have liked.
Comey had harsh words for her conduct. "Although we did not find clear evidence that Secretary Clinton or her colleagues intended to violate laws governing the handling of classified information, there is evidence that they were extremely careless in their handling of very sensitive, highly classified information," Comey said.
Contrary to her claim that she never sent or received information that was classified at the time, the FBI found 110 emails to have contained classified information when sent or received. While Comey said there was no direct evidence that Clinton's emails had been hacked, he said, "Any reasonable person in Secretary Clinton's position … should have known that an unclassified system was no place for that conversation."
These statements are damning commentaries on Clinton's judgment, and they contradict her assertions about the account. While Comey said there was not evidence to support a prosecution, Republicans have reacted with outrage to the announcement. Comey and Lynch have both been called to appear before House committees. Speaker Paul Ryan has asked that Clinton be denied classified briefings.
In the season of Trump, it's provided the rarest of things: a moment for Republicans to rally around a shared cause. And for Clinton, a candidate who already struggles with high unfavorability and low marks for trustworthiness, the results compound her troubles. Some have portrayed this as an example of the old axiom that it's not the crime but the cover-up, and it's true that Clinton's insistence that she didn't send classified info will not serve her well, but the damage was done with the server—even if there was no crime committed.
Still, as bad as Comey's remarks were for Clinton, let's not overstate the matter. The worst outcome for Clinton, however remote most experts believed it to be, would have been a recommendation that Clinton be charged. Even if Lynch had rejected the suggestion, it could have been fatal to Clinton's campaign. That's the second good break for Clinton in two weeks. On June 28, the House committee investigating the deaths of four Americans in Benghazi, Libya, on September 11, 2012, released its report, which was critical of American preparedness but found no evidence of negligence by Clinton herself on the night of the attacks.
Taken together, the results of these two investigations remove two of the most acute dangers dangling over Clinton's head.
The Benghazi investigation, and the email scandal that grew out of it, were the two live scandals that seemed most likely to imperil her campaign. What remains for her to grapple with now is the chronic pain that comes from an accretion of decades of scandals that have led many Americans to distrust both Clinton and her husband Bill. Even though many of the controversies have involved far more smoke than fire—and sometimes no fire at all—the damage is real.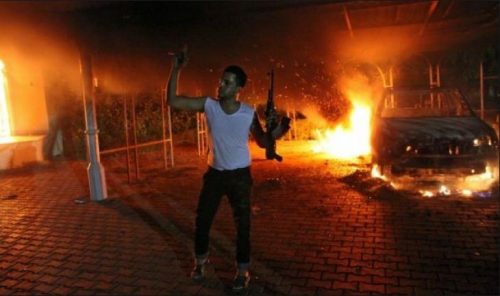 Although the House investigation turned up no evidence of wrongdoing on her part with respect to the attacks themselves, it was during that inquiry that her private-email use became public. This is a pattern with the Clinton family, which has been in the public spotlight since Bill Clinton's first run for office, in 1974: Something that appears potentially scandalous on its face turns out to be innocuous, but an investigation into it reveals different questionable behavior. The canonical case is Whitewater, a failed real-estate investment Bill and Hillary Clinton made in 1978. Although no inquiry ever produced evidence of wrongdoing, investigations ultimately led to President Clinton's impeachment for perjury and obstruction of justice.
With Hillary Clinton leading the field for the Democratic nomination for president, every Clinton scandal—from Whitewater to the State Department emails—will be under the microscope. (No other American politicians—even ones as corrupt as Richard Nixon, or as hated by partisans as George W. Bush—have fostered the creation of a permanent multimillion-dollar cottage industry devoted to attacking them.)
Keeping track of each controversy, where it came from, and how serious it is, is no small task, so here's a primer. We'll update it as new information emerges.