Corrupt FIFA fines against Remembrance Poppies teams a despicable money grab
FIFA for "the good of the game"?  Good only for a corrupt institution.  Best stick to local Premier League you can trust.
On Remembrance Day 2016, out of respect for our war dead, football teams across the British Isles displayed Remembrance Poppies at the World Cup qualifier.
"Poppies are a poignant tribute to the bravery and sacrifice of our servicemen and women, and footballers and fans alike should be able to wear them with pride."    – UK Sports Minister Tracey Crouch.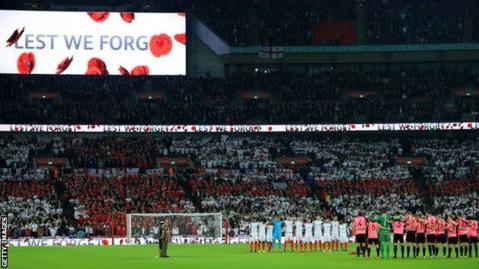 England and Scotland players wore armbands featuring the symbol when they met at Wembley on 11 November – Remembrance Day, marking the anniversary of Armistice Day in 1918 and the end of World War I.
Remembrance Day these days also commemorates Allied Nations' sacrifices in World War II and indeed in all participating armed conflicts and peace-keeping missions since.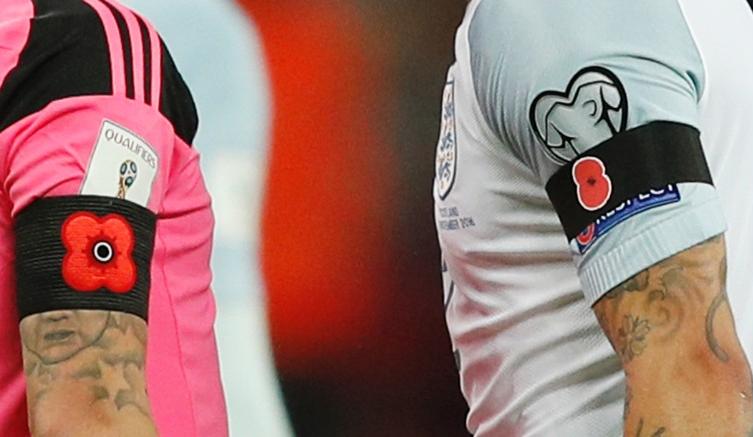 Both England and Scotland players wore armbands featuring the poppy symbol during England's 3-0 win.
There was also a display of poppies on big screens, a minute's silence, playing of the Last Post and poppy T-shirts handed to the crowd.  Wales and Northern Ireland's  (Ulster) respective games featured displays on the pitch or in the stands to mark the event.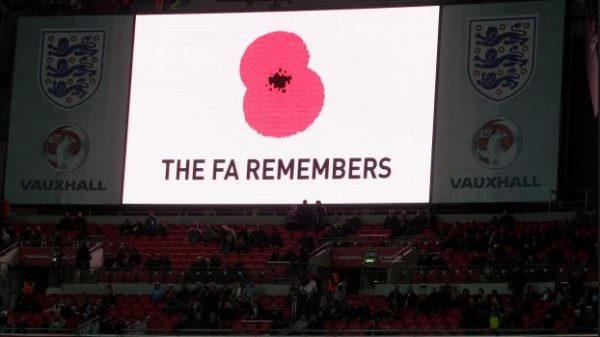 Following Wales' 1-1 draw at home to Serbia the next day, FIFA opened disciplinary proceedings looking at "fans in the stands wearing the poppy" and the presence of "a member of the armed forces holding a bunch of poppies at the exit of the tunnel", according to the Football Association of Wales (FAW).
Bloody Totalitarian FIFA!
The holding of a minute's silence, the laying of a wreath and a poppy display by fans before Northern Ireland's 4-0 win over Azerbaijan on 11 November have led to the punishment of the Irish FA.
FIFA's Ignorant Fines
Now FIFA bureaucrats in Zurich Switzerland have fined all four home nations for displaying poppies during World Cup qualifiers around Armistice Day.  FIFA's money grab amounts to a collective £90,000!
FIFA's Despicable Fines:
England Football Association fined 45,000 Swiss francs (Sfr) (£35,311),
Scotland FA fined 20,000 Sfr (£15,694)
FA of Wales fined 20,000 Sfr (£15,694)
Northern Ireland IFA fined 15,000 Sfr (£11,770).
The English FA was handed the much higher fine being the host nation for the World Cup qualifier.
Yet another whipped up FIFA drama
Shadow sports minister Dr Rosena Allin-Khan MP described FIFA's decision as "utterly disrespectful".  How did we get here?"
FIFA's concocted, wrong and unnecessary fines are all because disrespectful and ignorant officials at FIFA have wrongly labeled the poppies "political symbols" which they ban at matches.
Yet the poppy emblems are widely used by the Allied nations to remember those in the armed forces who died in the line of duty. Of course Switzerland did no such thing and was prepared to let Hitler Nazis dominate Europe during World War II.
In 2011, FIFA agreed that the England, Scotland and Wales teams could wear poppies on black armbands during November internationals.
However, this year, under new president Gianni Infantino, FIFA changed its mind.
Why?
FIFA's latest president, Gianni Infantino, was born in Brig in Switzerland to Italian immigrants and was educated at Fribourg in Switzerland.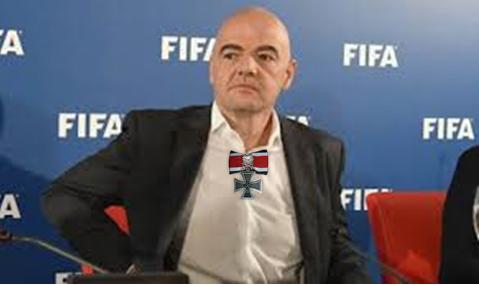 So Gianni Infantino has no cultural grasp or respect for the Allied nations who fought and died to save the free world.  While Switaerland was disgracefully neutral, Italy under Mussolini was an enemy fascist Axis power supporting the Nazis.

England's Football Association will appeal against the fine; with Scotland, Wales and Northern Ireland yet to decide.  A Scottish FA (SFA) spokesman confirmed discussions between the home nations have already taken place and an official appeal is likely to be lodged early in the new year.
Frankly, all four teams need to be united in upholding respect for the Remembrance Day commenmoration for their war dead – in many cases many players' fathers, grandfathers and ancestors.
Remembrance Day and its symbolic poppies are apolitical.  The occasion is one of national heritage to all four nations involved.  They deserve solidarity from all the other Allied Nations.  This includes those were Allied Nations in World War I – signatories of the original Entente Alliance of 1907, namely:
The four United Kingdom nations
France
Russia
Belgium
Serbia
Greece
Montenegro
Romania
It also includes those Allied Nations of World War II, namely:
The four United Kingdom nations – and dependent states, such as the British India.
France
Poland
Australia
Canada
New Zealand
South Africa
Netherlands
Belgium
Greece
Nations of the former Yugoslavia
Russia Nations of the former Soviet Union
United States.
It is globalist agenda of FIFA, an anti-nationalist institution, that is playing politics – globalist politics to undermine the local rights of nation states and their deep personal heritages.
FIFA's anti-First World Agenda
FIFA under the direction of João Havelange (a Brazillian) and Sepp Blatter (Swiss) both have sought to increase the influence of African and Asian countries in world football through the expansion of participating teams in various FIFA tournaments – that is make football a Third World dominated sport.
So FIFA appointed a new secretary general, Fatma Samba Diouf Samoura, a Third World Sengalese with no football experience on £1million-a-year.
She's the hateful nigger who concocted the poppy fine against First World Brits last month.
Poppy Hater Fatma Samba Diouf Samoura – eats too much junk food
If the United Kindom is indeed somehow 'united', then all four national teams wrongly penalised need to not pay FIFA's despicable fines.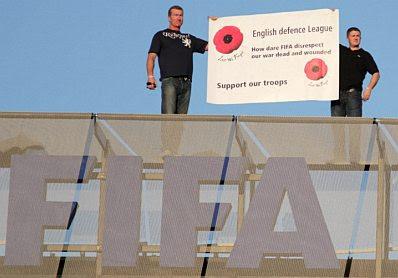 Patriots like the English Defence League were right in 2011 to protest on the roof of FIFA's headquarters in Zurich. 
FIFA's Systemic Corrupt Record Makes it Unfit
The entire FIFA body is corrupt, has lost all public respect and should be wound up.
In 2015, American federal prosecutors disclosed many cases of corruption by FIFA officials, associates and corporate sponsors involving receiving US$150 million in bribes. Fourteen FIFA officials have been indicted by the FBA in connection with fraud, racketeering, and money laundering.
Four FIFA football executives pleaded guilty.  Nike bribed FIFA more than US$40 million to be the sole provider of uniforms, footwear, accessories, and equipment to the Brazil national team.  Official Chuck Blazer was one of many arrested in 2013 for tax fraud in Zurich.
There is the Qatar World Cup bribe, and much corrupt conduct exposed by Third World members and associates of FIFA in Ivory Coast, Trinidad, Nigeria, Brazil and now black South Africa.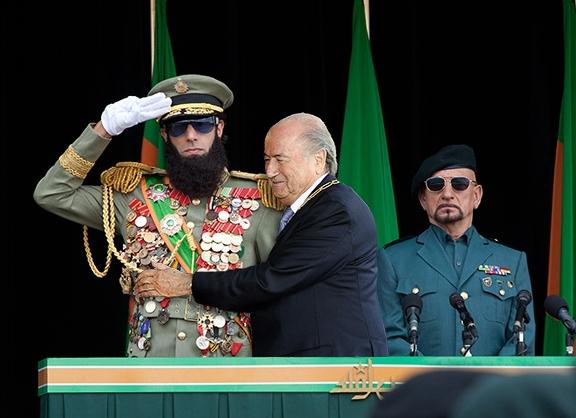 Beard and medals off China's Alibaba website
Former FIFA President Sepp Blatter (also a Swiss) was charged with "criminal mismanagement… and misappropriation" and resigned in disgrace in 2015.
FIFA's Globalist Elite
FIFA's latest corrupt presidential elite perpetuates the public disregard and distrust in FIFA. 
FIFA's former president and secretary general, Sepp Blatter and Jerome Valcke, got bonuses of at least $10 million for each World Cup. They received basic salaries of around $3 million and $2 million, plus undisclosed bonuses and "donations".
Gianni Infantino is set to be paid 2 million Sfr a year as FIFA President, plus bonuses from 2017.  He gets a chauffeured car, free first-class flights anywhere, 5-star accommodation anywhere, his lodgings in Zurich fully paid, plus monthly expenses of 2,000 Sfr.
FIFA's auditor Domenico Scala has resign in protest.
Time to Find a First World Alternative to Globalist FIFA
It would be in the best interests of fans across the British Isles to start boycotting FIFA, for the FA to pull out of the corrupted institution and to form a competitive association.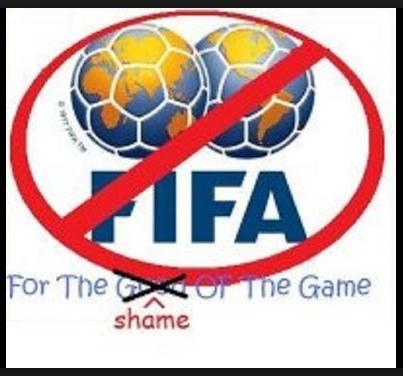 Focus of the Football Association's FA Cup would see a superior standard emerge and the fans of the British Isles better rewarded.
Some have recommended an alternative international association to FIFA playing for an alternative World Cup, and so let FIFA slowly die the bankrupt death it deserves.   Such an alternative international football association to FIFA should be headquartered somewhere in the British Isles and invite teams from separate football associations like the Bundesliga, the Union of European Football Associations, the Association European Professional Football Leagues and The Asian Football Confederation.