Islamization of Britain: Britons resorting to Vigilante Justice

Brits are resorting Vigilante Justice under the onslaught of imposed mass immigration, particularly from the barbaric Third World.
Unless security measures are stepped up to counter the "vulnerability and fear" that people feel in the wake of the barbaric terrorism in Woolwich, Paris, Brussels and Nice – a former head of MI5 has warned.
Baron Evans of Weardale, who as Jonathan Evans worked for the Security Service for 33 years, also warned that the world faced a build-up of trained terrorists not seen since al-Qaeda ran training camps in Afghanistan before 9/11.  He had spoken in a House of Lords debate as police forces had prepared to deploy officers at newsagents continuing to sell Charlie Hebdo.
Germany Merkeled
Europol estimates up to 5,000 immigrants to Merkel's sodomised Europe pose a terrorist threat after going to Syria to fight, Lord Evans said the "hesitancy" of the Government to "engage with the religious dimension of the threat we face" was making it harder to prevent young men becoming radicalised.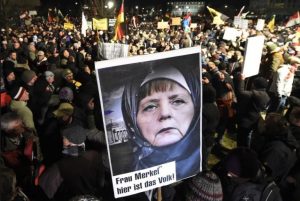 He said events in Syria and Iraq had caused a "jolt of energy that has gone through the extremist networks in this country", turning would-be jihadists into battle-hardened terrorists.
A similar situation existed in Afghanistan before 9/11, he said, and: "Those circumstances led to a series of attacks internationally and over a long period. I fear we may be facing the same situation as we go forward today… "
"Inadequate security will breed vulnerability and fear and that in turn will tend to limit people's ability to contribute to civil society, will tend to provoke vigilantism and will tend to diminish people's ability to exercise the very civil liberties and human rights that we wish to sustain."
Arson to Illegal Refugees has become de rigueur for nationalists.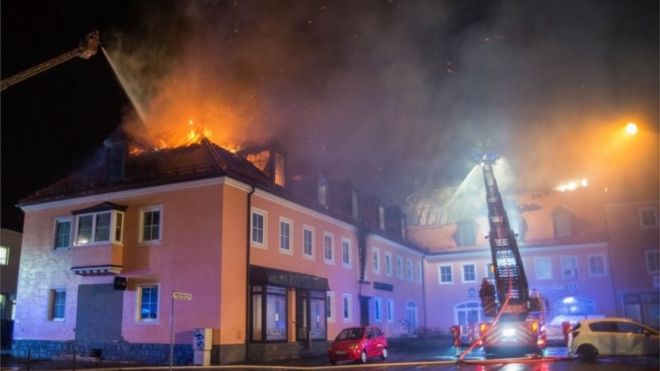 Bautzen, Saxony 21-Feb-16:  A Merkel migrant takeover-housing scorched and cheered by local Germans
Police said some of the crowd tried to prevent firefighters from extinguishing the blaze, which destroyed the roof.
The premier of Saxony, Stanislaw Tillich, described them as "criminals".
'Unashamed delight':   Only a few days ago, protesters in another Saxon town, Clausnitz, blocked the arrival of a bus taking migrants to accommodation.
They shouted, "We are the people", the slogan of the 1989 peaceful uprising which led to the fall of the Berlin Wall and the reunification of Germany.
The director of the Clausnitz migrant shelter is a member of the anti-immigrant Alternativ fuer Deutschland (AfD) party.
Police in Bautzen said many in the crowd watched the fire and commented with "unashamed delight". Two drunken men were arrested after they refused to leave the scene.
The converted hotel was supposed to house 300 migrants.
In a further sign of anti-migrant sentiment, police in the Brandenburg region are investigating the distribution of leaflets urging "absolute resistance" against "foreigner invasion".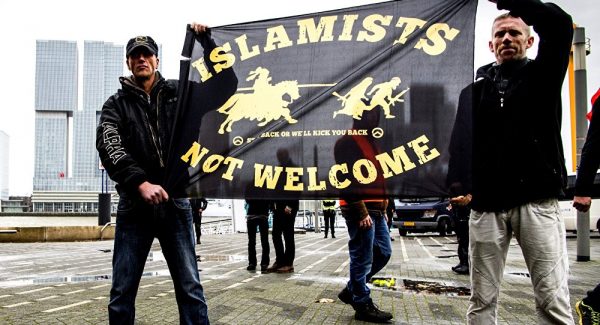 The leaflets, put through letterboxes in the town of Nauen, are the suspected work of nationalists. They also give instructions on making firebombs and using explosives.
On Saturday, police defended their response to events in Clausnitz after two videos surfaced online.
The first video showed 100 hostile demonstrators preventing a bus from off-loading migrants into their accommodation on Thursday.
A second appeared to show police roughly manhandling a boy from the bus into the building.
The regional police chief said there were too few police to keep the protesters away, and three of those inside the bus had provoked the crowd.
Germany received over a million asylum claims in 2015 and has been widely admired for opening its doors.  But with that have come increasing reports of anti-migrant incidents amid fears of a backlash, correspondents say.
Britain Blaired
Britons have had enough and our resolve runs generations.
Bring it fuckin on!  We can only be pushed so far. Government get out of the way.