QANTAS decrees faggot month with strap-on float in Mardi Gras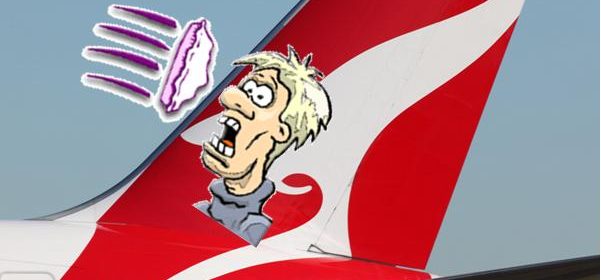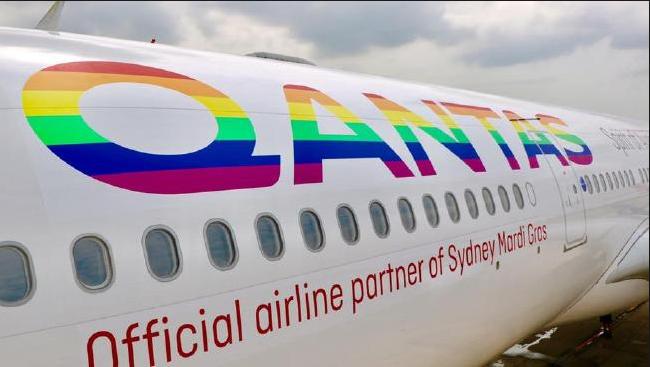 Of course Joycey was in the parade..up the front!
.
SYDNEY: QANTAS PC feminazi Mz Lesley Grant has pretty much decreed March hug-a-faggot month, issuing a company-wide ultimatum to all staff not to dare offend poofs, dykes, trannies, cross dressers, pedos, and the like.  As part of its 'Spirit of Inclusion' month, Mz Grant's gospel instructs all QANTAS staff to stop using 'honey', 'darling' or 'love', even as a term of endearment, because they "often offend" snowflake hosties.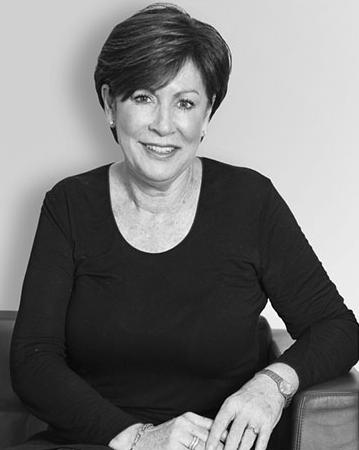 Feminazi Mz Lesley Grant
Apparently Mz Grant is considering a second sex change because she's bored, overpaid and can afford it.
Imposed Diversity
'Partner' and 'spouse' are preferred to 'husband' and 'wife' while 'parents', instead of 'mum and dad', should be used to avoid excluding frustrated LGBTTQQFAGPEDOBDSM+ mutants.
The term "manterruptions", where men interrupt women when speaking, also featured in the information pack in an attempt to ease it out of staffs' daily routines. "Research shows that in many situations, including the workplace, men interrupt and speak over women, while the reverse rarely happens," the information pack says.
So women interrupting men is of course ok, especially if the man is White. It's all perverted minority prejudice against normal mainstream Australian White men.  Mz Grant froths over hissy fitting nonsence, yet ignores QANTAS mistreatment of White male baggage handlers like David Lawless who got sacked by QANTAS in Adelaide for a workplace injury in 2013. The judge ruled that QANTAS denied him procedural fairness – probably because he was a normal White Aussie male.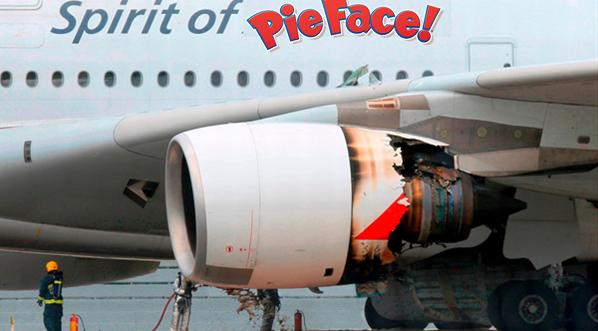 The pack also attempts to rewrite Australian history with staff urged to "recognise reality" over Europeans' arrival in the 18th century.
"Describing the arrival of Europeans as a 'settlement' is a view of Australian history from the perspective of England rather than Australia," it says. Staff are told to use the PC terms 'colonisation', 'occupation' or 'invasion' instead.
Wasn't 1788 when civilization arrived in Australia to end tribal spear throwing and bone pointing?
"We have a long and proud history of promoting diversity and inclusion among our people, our customers and society, including support of indigenous issues, gender parity in business and marriage equality," reckons Mz Grant.
Just get this plane to my destination Joycey!
QANTAS says the content of the information pack was copy-pasted from Diversity Council of Australia's manual on social re-engineering.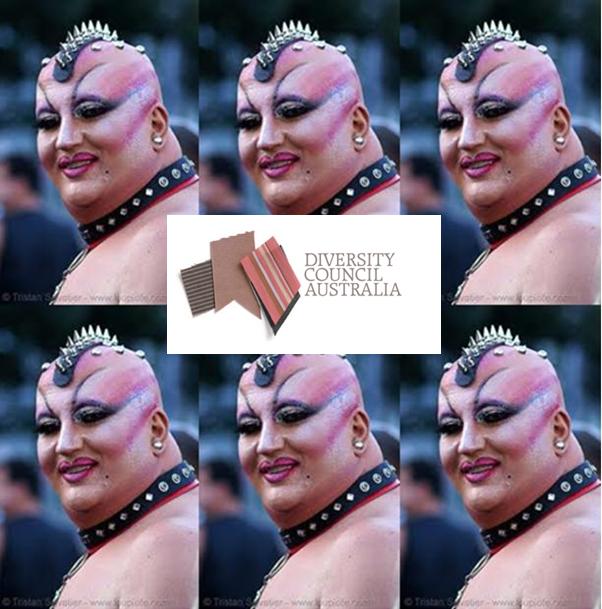 Top QF poof has his mind off da ball
While CEO Alan Joyce abuses Australia's national airline as his risque billboard, QANTAS seems to be taking more and more risks.
February 20, 2018: Terrifying footage has emerged from onboard QANTAS flight QF2475 from Mount Isa to Townsville as the pilot chose to fly through a severe electrical storm.  A passenger reported lightning striking the plane and rattling thunder lasting 40 minutes.  The plane landed over an hour and a half late.
October 2017: QF467 reversing from its gate at Sydney collided with a catering truck on the tarmac – pilots didn't check their mirrors.
August 2017: QF7 from Sydney to Dallas Fort Worth had to abandon the flight due to faulty wing flaps and QANTAS flight QF63 from Sydney to Johannesburg abandoned the flight midair due to a cracked windscreen not detected pre-flight.
June 2017: QF93 travelling to Los Angeles was forced to divert to Sydney due to a technical fault.  In May 2017 QF94 bound for Melbourne was forced to turn around mid-air after one of four engines on board failed.
May 2017: QF94 from Los Angeles to Melbourne was forced to turn two hours into the flight at 33,000 ft, when sparks were seen coming from an engine and violently shaking the plane.
April 2017: a 'stick shaker' warning activated mid-air 110 km south of Hong Kong warning the pilots of an imminent stall.  The plane shook violently tossing passengers out of their seats and injuring fifteen.
In 2010, QF32 suffered an uncontained engine failure and had to make an emergency landing at Singapore Changi Airport (see pie-face image above).
Read more about QANTAS incidents.
And meanwhile on the topic of deviant indoctrination, Disney Channel introduces faggotry between kids in show aimed at pre-teens.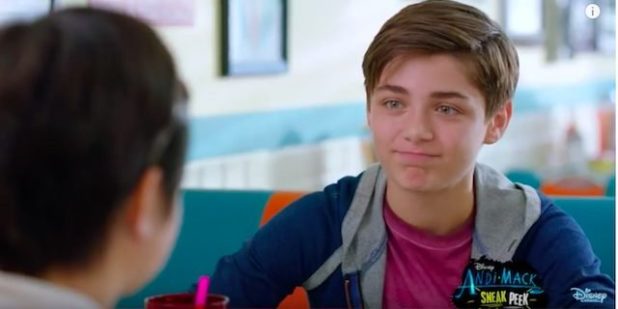 This is what kikes are trying to turn your son into.
Are you letting your kids watch jewish "entertainment"? If so, not only are you a failure as a parent, but you're a also a retard.
Disney Channel will introduce a gay storyline between two young boys this Friday when the premiere for the second-season for the popular series "Andi Mack" airs.
The children's series will show one of its young male characters realizing he might have developed romantic feelings for another young male classmate, according to the Hollywood Reporter on Wednesday.
The series centers around the main character, a 13-year-old girl named Andi Mack, played by Peyton Elizabeth Lee, her unique family situation and her two best friends, Cyrus (Joshua Rush) and Buffy (Sofia Wylie).
I checked out the series –  the core cast is made up entirely of gook girls and jew boys.
When the season premieres this Friday at 8 p.m. viewers will see Mack trying to sort out her feelings for her friend Jonah, played by Asher Angel. At the same time, her best friend 13-year-old Cyrus realizes he too has feelings for Jonah and shares his thoughts with Buffy.
So tolerant…
Had enough yet?
According to the report, Buffy's reaction and the scene are to "serve as a positive role model for both kids and adults."What follows will be a series of revelations over the next few episodes with Cyrus ultimately this season realizing he is gay and coming to accept that fact.
The only acceptable reaction to someone telling you he's a faggot is to punch him in the face.
The average viewer's age for the series is 10 years old.
Stop letting your kids watch this garbage. If a movie, show, video game, book or what have you has any kikes involved in the creative process, there's only one thing you can do with it – BURN IT!
There is no excuse for paying (((people))) who hate you to brainwash your children into becoming miserable degenerates and actively (often cheerfully) contributing to the destruction of their entire kind.
Disney fought the jews half his life, but after he died it was all over. Disney today is nothing more than a propaganda vehicle for the kikes, just like the alternatives.
Video games are less pozzed on average, and anime is ok despite its weirdness. Books written before WWII are almost entirely fine.
But whatever you do, make sure your children stop watching kike entertainment.
There's nothing more important than that.
Remember – these vermin reproduce through conversion.