Trump exposes corrupt Clinton and her anti-American leftists at hateful Hollywood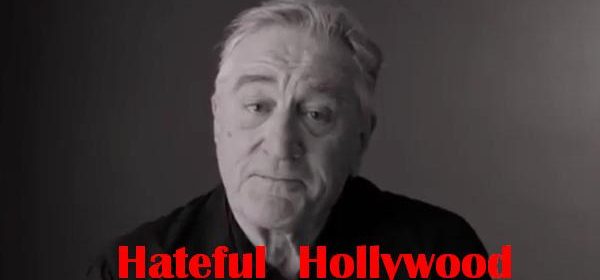 Many celebrities out of Hollywood are liberal leaning leftists and so they politically support the leftist Democrats for personal and ideological reasons.  Their very vocal support for ideal notions like globalism, no borders, climate alarmism, global welfarism is quite fundamentalist and inflexible.  They evangelise Al Gore, Obama and the Clintons as if they can do no wrong.
Why?
These individuals make so much money from performing on stage or set and they become famous international brands, build huge egos and then realise that they can wield considerable public influence.
Celebrities become so wealthy and influential as to join a privileged elite class – 'neo-aristocrats' really.  They then think they have some privileged right to use that influence as power to shape public opinion and to steer voters toward their own personal views and voting preferences.
They don't. It is an abuse of personal power, only derived from celebrity status, not merit.
Who frankly cares how Leonardo DiCaprio or Snoop Dog vote?
In contrast, Hollywood actor Ronald Reagan who appeared in more than 50 films, at least gained experience as president of the Screen Actor's Guild and by serving two terms as Governor of California.  Reagan's interest in politics was met with merit in concerted hard political campaigning to become American president.

But smart arse quips by opinionated celebrities spewing schoolyard vitriol against presidential candidates is reprehensible and low-life.  It only cast aspersions upon the Hollywood brand.
Despite having made their riches through Western capitalism, they take wealth so much for granted that they want for nothing material.
Instead, these celebrities indulge their time in idealist ideology like multiculturalism, disarmament, welfarism, libertarianism, globalism, and communism and social deviances – like homosexuality, anti-vaccination, and legalising narcotics.  They align themselves with the intellectual class (although many are found wanting in that regard).
George Mason University economist Alex Tabarrok points out in the Wall Street Journal this June, Hollywood frequently portrays capitalists as villains:  Erin Brockovich, Syriana, Mission Impossible II, Star Wars, The China Syndrome, Wall Street, etc.  Hollywood's anti-capitalist rhetoric pervades in films since The Wizard of Oz, with The Last Samurai, Hey Arnold, The Lego Movie, Robocop 3, Apocalypse: Resident Evil, Avatar, etc.
Hollywood's long-running romance with the liberal left sees Democratic candidates make a beeline to Hollywood for campaign contributions every election season.  When President Barack Obama flies to a star-studded Hollywood party to raise $1 million for the Democratic Congressional Campaign Committee they given him a rock star welcome.
During Obama's presidential campaign, George Clooney expressed an urge to follow then candidate Obama around the room. Halle Berry, likewise, cooed: "I'll do whatever he says to do." Obama of course has a special hold on Hollywood, but he is by no means alone. Al Gore the "Goracle" receives a five-minute standing ovation every time he strolls onto Hollywood's red carpet.
Many people have offered theories to explain Hollywood's love affair with the Democratic Party, the most notable being Nobel Prize-winning economist Gary Becker of the University of Chicago. He argued that Hollywood tends to have non-traditional views on social mores — high divorce rates, children out of wedlock, high presence of gays, frequent abortions, frequent drug use, premarital sex, etc.  Many have less than savoury characters else are prejudiced immigrants incompatible with traditional American values.
So then they believe the rhetoric, propaganda and outright lies the Democrat media machine concocts about president-elect Donald Trump.  No need to fact check about defamatory sexism lies – at Hollywood, Democrat groupthink is unquestioned.
Hollywood's libertarianism extends to outright 'Trump hate' because Donald Trump represents traditional American values.  These big mouthed celebrities won't even listen to what Trump has to say.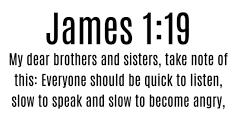 The Hollywood vocal hate campaigners are lead by the likes of Meryl Streep and Helen Mirren who ridicule him saying he had an "enormous body, small head" and "dinosaur-y hands" – not an intelligent critique.
Comedian John Oliver of Trump  says "It calls to mind both Frankenstein's monster and a rabid dog."  George Clooney labels Trump "a xenophobic fascist" for wanting to close Obama's open borders and to protect America's sovereignty and jobs.
Comedian Chelsea Handler posted a topless picture of herself with the words 'Donald Trump Is A Butthole' on her back.  Hollywood actress Eva Longoria hates Trump because she's got Mexican blood and sides with those south of the border that Trump is set to close.
Other vocal Trump hating spruikers out of Hollywood include Katy Perry, Richard Gere, Matt Damon, Leonardo DiCaprio and singer Lady Gaga.
Watch Hollywood Clintonista thug Robert de Niro incite violence against America's president-elect.  His ego is up his backside.  He thinks he's still on set playing some gangster unable to distinguish fantasy from reality.  Considering his life choices he's not too bright without a script, director and multiple takes.  In private life he's an oil driller and anti-vaccination cultist.
What goes around comes around you schmuck!
https://www.youtube.com/watch?v=ZDi2HLM4QzI
Some sixteen hate-filled Hollywood elitists and media to try to steer American voters, proclaimed before the presidential election result that if Trump won they would leave America.  Most of them are comedians and so think they're funny.
These are zionist and gay activist Barbra Streisand, socialist Bryan Cranston, socialist Jon Stewart, lesbian Miley Cyrus, and lesbian negro Raven-Symoné, feminazi Lena Dunham, ex-crim Amy Schumer,  Cher (Armenian immigrant), Playboy slut Chelsea Handler, negro Samuel L. Jackson, negro Whoopi Goldberg, negro Keegan-Michael Key, Mexican George Lopez, negro Ne-Yo, Rev. Al Sharpton (negro activist), and Neve Campbell (a Canadian anway).
Clearly they each have vested interests by supporting the Democrats. Are these individuals so naïve not to grasp the fact that their celebrity influence is being exploited by the Democrat National Committee propaganda machine to garner votes and fund-raise?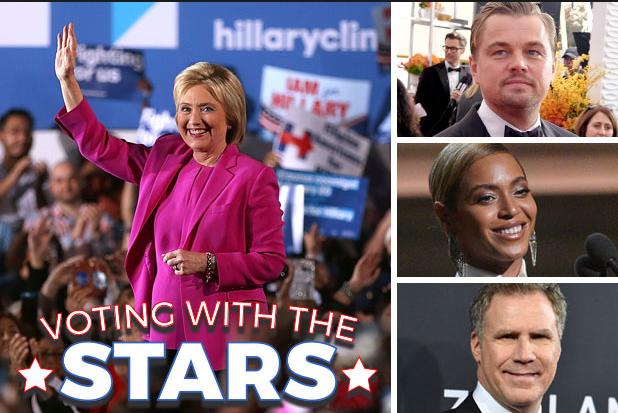 Samuel Loser Jackson is quoted promising: "If that motherf*cker becomes president, I'm moving my black ass to South Africa."
..did a lot for negro status in America.
Well, they need to pack their bags and head to Africa, communist Canada or Venezuela where leftism reigns. Those who laugh first cry last.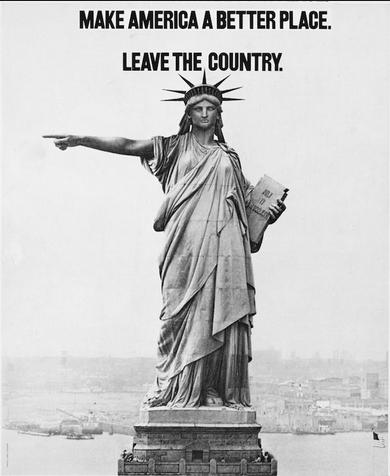 Here are more hate-filled Clintonista celebrities, perhaps now leaving America since Trump's presidential victory:
Kim Kardashian
Kanye West
America Ferrera
Ari Emanuel
Jane Fonda
Abby Wambach
Dustin Hoffman
Drew Barrymore
Connie Britton
Beyoncé
Debra Messing
Ellen Pompeo
Jessica Alba
Bryan Lourd
Larry Flynt
Ellen DeGeneres
Harvey Weinstein
Beth Behrs
Estelle
Karl Lagerfeld
Carole King
Tig Notari
Cyndi Lauper
John Leguizamo
Padma Lakshmi
Guillermo Diaz
Ted Danson
Gideon Raff
Ben Harper
Adam Shankman
Russell Simmons
Tony Goldwyn
Bellamy Young
Orlando Bloom
Maria Bamford
Jamie Foxx
Anna Wintour
Lukas Haas
Chuck Lorre
Meg Ryan
Salma Hayek
Cristela Alonzo
Candice Bergen
Mary J. Blige
Sally Field
Martha Stewart
Craig Newmark
Viola Davis
Pharrell Williams
Candis Cayne
Vera Wang
Tom Hanks
Octavia Spencer
Britney Spears
Zach Braff
Kareem Abdul-Jabbar
Larry Flynt
Lindsay Lohan
Jeffrey Wright
Tony Bennett
Johnny Galecki
Magic Johnson
Abbi Jacobson
Kerry Washington
Olivia Wilde
Lori McCreary
John Legend
K. Michelle
Julianne Moore
Josh Peck
Anne Hathaway
Jim Parsons
Demi Lovato
50 Cent
Cybill Shepherd
Jamie Lee Curtis
Michael Kors
Amber Tamblyn
Rosie O'Donnell
Amy Poehler
Jemima Kirke
Gina Rodriguez
Mary Steenburgen
Shonda Rhimes
Constance Wu
Natasha Leggero
Zoe Kazan
Tracy Anderson
Shannon Woodward
Katie Lowes
Sting
Uzo Aduba
J.J. Abrams
Steven Spielberg
Jeffery Katzenberg
Jon Bon Jovi
Ilana Glazer
RuPaul
Haim and Cheryl Saban
Kat Dennings
Jesse Tyler Ferguson
Jennifer Lopez
Dascha Polanco
Rob Friedman
Snoop Dogg
Waka Flocka
Ariana Grande
L.A. Reid
Kelly Clarkson
Ja Rule
Katie Holmes
Reese Witherspoon
Stevie Wonder
Tobey Maguire
Kate Walsh
Diane Kruger
Ben Affleck
Jennifer Garner
Bradley Whitford
Quincy Jones
Dakota Fanning
Marc Anthony
Bryan Cranston
Jesse Eisenberg
Chris Colfer
Retta
Elizabeth Banks
Sean Astin
Howard Stern
Alex Rodriguez
Usher
Greg Berlanti
Steven Bochco
Antonio Villaraigosa
Amanda de Cadenet
Lee Daniels
Howard Gordon
Rob Reiner
Andrew Rannells
Jemima Kirke
Christina Aguilera
Kate Hudson
Chris Silbermann
Elton John
Andra Day
Kendall Jenner
Ricky Martin
Michael Douglas
Will Ferrell
Morgan Freeman
Sean Penn