African Big Man Nigger Syndrome in deepest darkest Gambia doesn't go quietly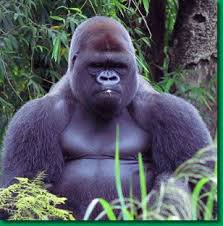 African Big Man in Gambia Godzilla Yahya Jammeh thought he had it pretty good for two decades.
He had a big house compound, full pantry, lots of women on tap, military minders and the key to the Gambian Bank.
And he hates faggots.
Demagoguery is cool in deepest darkest Africa. Own a terror squad and pay them well who threatened to behead opponents, media and protesters – with a few early publicised demonstrations and your rule of law is secured.
Then control the banks deposits from tourism and peanuts and your African Dictatorship recipe is made dude.
Godzilla Jammeh was expecting his fifth term, having seized power in a 1994 military coup. Human rights groups described his regime as abusive, with hundreds of political prisoners languishing in jail.
Jammeh the muzzie god, got re–elected as President in 1996, 2001, 2006, and 2011 and having lots of AK-47s helped.
But then some foreign niggers interfered and he got defeated in the 2016 election to another, which pissed him off and so Jammeh refused the results.  But his own military betrayed him and so Jammeh went into exile to Equatorial Guinea to retire with millions.
Yet another African big man overstaying his welcome, ignoring the will of the people.
Just like Museveni in Uganda, just like Mugabe in Zimbabwe, just like Kagame in Rwanda, just like Nguesso in the People's Republic of the Congo (6th name change), just like Deby of Chad, just like Aziz in Mauritania, just like Santos in Angola, just like Zuma in South Africa (with his four wives), et cetera.
It's because they can.
It's like Africa is traditionally a collective of tribes not countries, and each tribe has a chief – a big man who gets to do what he wants – kill off challengers, embezzle, commit human rights abuses.
For Africa remains a primitive society. While Portuguese explorer Dias exposed the continent to First World civilization in the late 1400s, the wholesale colonial influence didn't really take effect until the 1800s. So African natives have only experienced the influence of civilized society for 300 years (ten or so generations) and most of that as being enslaved and colonised.
Hence primitive tribal traditions prevail, not so evolved from their chimp primal ancestry and there are many social comparisons – social structure, family bonds, patriarchal dominance and hierarchy, mating, territorial warfare and violence.
Unseating the dominant male in an ape society usually means a fight to the death, else immediate disgrace and exile.
In African countries, there is a ruling family with a Big Man who calls himself president.  Ain't no prime ministers.   Every Big Man nigger has his private army to defend himself against challengers for dominant male position.
President Eduardo dos Santos, Big Man president of Angola and his family have their own military and police to guarantee the president's rule. Ditto all the other African countries.
In 2012, it wasn't easy unseating Senegalese President, Abdoulaye Wade, despite being outvoted two to one by his opponent Macky Sall.
In Gambia, one of Africa's most earliest European colonies, little has changed in traditional society since the English built Fort James in 1663.  The people are still Third World impoverished with over a third of its population of 1.7 million surviving below the United Nations poverty line of $1.25 a day, while successive Big Men and their families rule with iron fists and indulge in what little national wealth can derive.
Gambia's Big Man President Jammeh has had gigantic posters of himself (20 metres high) positioned at the main crossroads of the Gambia's few main roads.  He's dressed in his usual white flowing Islamic robe, narrow white felt koofi cap holding a traditional ornately carved wooden staff.
The inferred message: "I am your all powerful ruler, so rejoice and submit, or else."
Jammeh seized power in 1994 as a young army lieutenant (aged 29) in a coup.  Now the lifespan of most apes is 40 years in the wild and the common age for a young male to challenge the dominant male is around age 12 years, so Jammeh was a tad slow in developing.
Jammeh seized power from dominant male Big Man Dawda Jawara who had ruled Gambia for the previous 30 years under authoritarian rule and fear.
So Jammeh simply replaced Jawara in name only, with the same ruthless dictatorship and indulgent eccentricity,  ordering the execution of criminals and political opponents on death row, and threatening to behead homosexuals.  In 1997, nine opponents were executed, including Alieu Bah, a former lieutenant in the army for plotting to oust Jammeh.
In 2013, he vowed to stay in power for "a billion years" if God wills, prmoting himself to the title "His Excellency Sheikh Professor Alhaji Doctor Yahya AJJ Jammeh Babili Mansa" – the last bit translated as "conqueror of rivers".
But last year, another challenger came along, Adama Barrow. Predictably, His Excellency resisted, but the challenger got help from armed troops from neighbouring Senegal, Nigeria, Ghana and Mali.
But not before Jammeh plundered the state coffers of millions of dollars and shipping out luxury vehicles by cargo plane to his fancy new compound in exile in Equatorial Guinea.  Such has become the standard retirement strategy of African Big Men.
"Over two weeks, over 500m dalasi ($11 million) were withdrawn" by Jammeh, says incoming president Barrow's new administration. "As we take over, the government of The Gambia is in financial distress."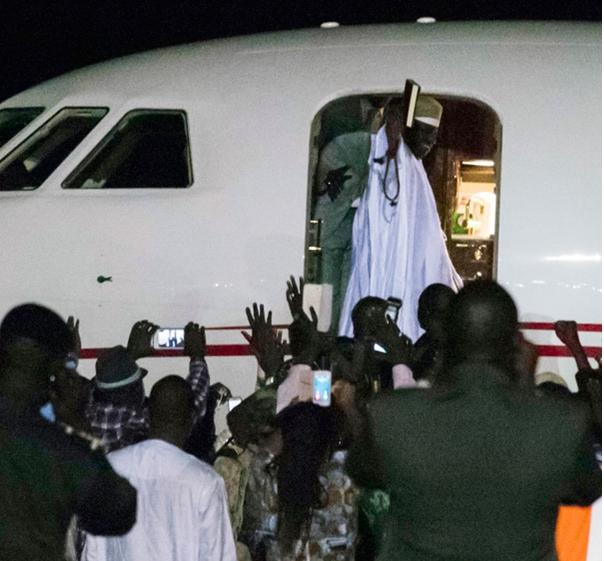 Jammeh waves to supporters as he boards a plane to leave the country, ironically with their loot.
Niggers and looting are just inseparable.  Their slave descendants in America carry the same primitive tribal culture with them. Looting is a very old nigger culture, ingrained some say.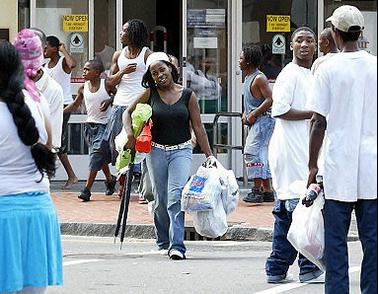 Niggers looted in New Orleans, Louisiana in America just like after Hurricane Katrina in 2005.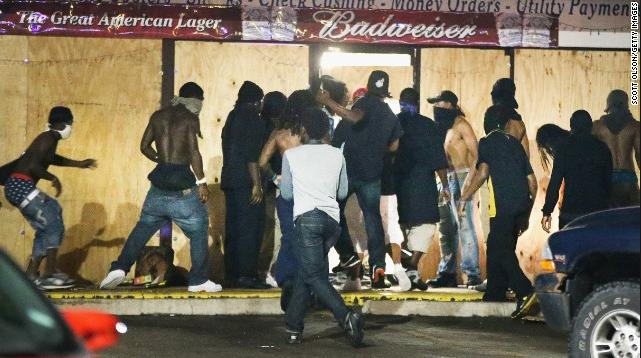 Just like in Ferguson, Missouri in November 2014.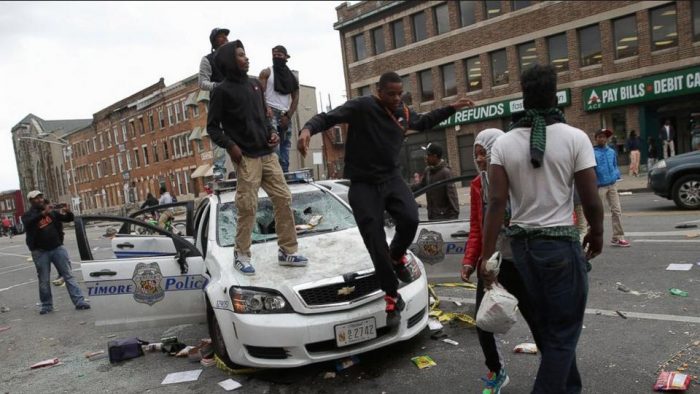 Just like in Baltimore, Maryland in August 2016.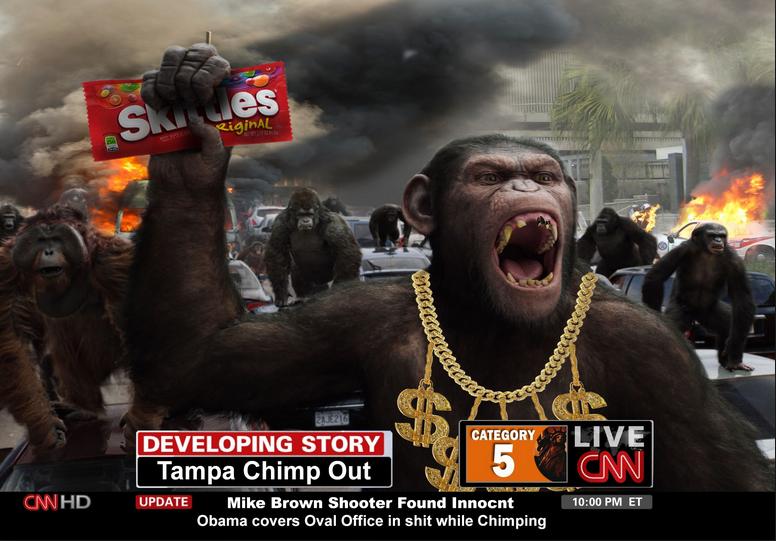 Just like in Tampa Florida, in November 2016, just two months ago.