Murdock Propaganda Media's Andy Coulson found Corrupt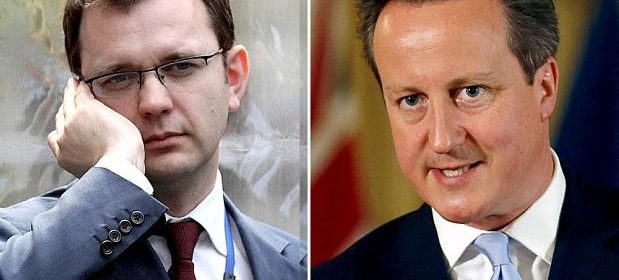 Seven years of deceit by David Cameron's former director of communications were undone in the Old Bailey on Tuesday, when a jury found Andy Coulson guilty of conspiring to hack  into phone messages.
The verdict came at the end of an extraordinary eight-month trial that also saw Coulson's predecessor as editor of the News of the World, Rebekah Brooks, found not guilty of phone hacking and three other charges. Her husband, Charlie, her former PA and a security guard were also found not guilty of the single charges they faced, as was the paper's former managing editor.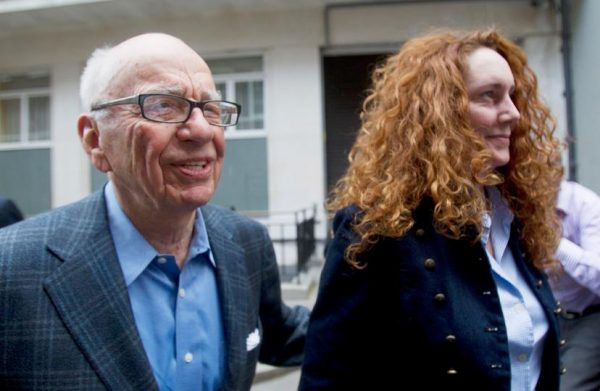 But the jury's decision in Coulson's case prompted Cameron to make a rapid and unreserved apology – while Ed Miliband countered that the verdict demonstrated that "a criminal" had been brought into "the heart of Downing Street".
The prime minister said he regretted his decision to employ Coulson first as communications director at the Conservative party in 2007, shortly after he left the News of the World after one "rogue reporter" from the tabloid had been jailed over hacking, and take him with him to Downing Street from 2010.
In a statement, Cameron said: "I take full responsibility for employing Andy Coulson. I did so on the basis of undertakings I was given by him about phone hacking and those turned out not to be the case. I always said that if they turned out to be wrong, I would make a full and frank apology and I do that today. I am extremely sorry that I employed him. It was the wrong decision and I am very clear about that."
Nevertheless, questions remain about the personal judgment of Cameron and whether he put his desire to be close to Rupert Murdoch's newspapers before a dispassionate judgment of whether it was likely that Coulson as News of the World editor had no knowledge of phone hacking to gather sensational stories.
Miliband was fierce in his criticism of Cameron's attitude and his refusal to heed multiple "monthly warnings" from 2009, when the Guardian first reported that phone hacking at the News of the World may have been widespread.
Miliband said: "David Cameron has very, very serious questions to answer … we now know he put his relationship with Rupert Murdoch ahead of doing the right thing when it came to Andy Coulson.
"This was not small or accidental mistake. He stuck with Andy Coulson for a long period of time – it was not as if there was not information out there to arouse his suspicions. He was warned by the deputy prime minister, he saw front page stories in newspapers, he was warned by newspaper editors and still he refused to act"
No 10 recognises Cameron faces a few difficult days but believes his error will cause little long-term political damage. The man who recommended hiring Coulson in the spring of 2007, the chancellor, George Osborne, added: "We gave him a second chance but, knowing what we now know, it's clear that we made the wrong decision."
There were dramatic scenes outside the court as Brooks and her racehorse trainer husband, Charlie, who was also cleared, left the dock. Coulson stood emotionless as he absorbed the news. Looking faint and close to tears, Brooks walked with the support of the court's matron and her solicitor Angus McBride.
The Brookses made no comment on the verdicts and left the Old Bailey to be confronted by a phalanx of photographers, TV crews and members of the public as she was shepherded to a waiting taxi. Asked if she had a comment to make, Brooks's solicitor Angus McBride said she couldn't say anything because the trial was ongoing, with verdicts still to be reached in charges faced by Coulson and the News of the World's former royal editor Clive Goodman relating to corrupting public officials.
Coulson's conviction brings the number of people associated with the News of the World convicted of a hacking conspiracy to five.
Before the trial three former newsdesk executives, including Greg Miskiw and James Weatherup, pleaded guilty, as did the phone hacker Glenn Mulcaire and a former reporter, Dan Evans, who confessed to hacking Sienna Miller's messages on Daniel Craig's phone.
Neville Thurlbeck, the News of the World's former chief reporter and news editor, pleaded guilty after the police found the tapes he had of Blunkett's messages in a News International safe. Sentencing is expected early next week.
The eight-month trial involving seven defendants came about following revelations first reported in the Guardian in 2009 that News of the World had routinely used hacking to get exclusives on celebrities, sports stars, politicians and royals.
Coulson resigned as editor of the paper in January 2007 after the imprisonment of the private investigator Glenn Mulcaire and the paper's former royal editor Clive Goodman for hacking a limited number of celebrities and royal aides claiming he had to take "ultimate responsibility". Months later, Cameron in search of a media professional with knowledge of the tabloid newspaper mind hired Coulson after he received assurances from Coulson that Goodman was a rogue.
It was not until Coulson entered the witness box that he dropped the bombshell that not only had he known about the hacking of Blunkett, but he had also listened to tape recordings of the intimate messages the cabinet minister had left on the phone of Kimberly Fortier, the then Spectator publisher. He also admitted lying to Blunkett when he failed to tell him how he knew about the affair when he confronted him at his Sheffield constituency office in August 2004.
Blunkett told the Guardian: "This is clearly not about me. This is about those who never asked to be in the public eye in the first place and who have been subject to the most grievous misreporting, personal misrepresentation and abuse, and now to further public scrutiny, simply because of the actions of people who acted illegally, brought the journalistic profession into disrepute, and put personal success before high standards."
Born into a council estate in Essex, he became a star showbiz columnist on the Sun and went on to become editor of Britain's largest selling Sunday newspaper from where he leapfrogged into Downing Street, becoming one of the prime minister's closest aides.
Brooks's acquittal will provide some relief for Rupert Murdoch, who once described the woman who rose to be chief executive of his London based News International operation as his "top priority" when the phone-hacking crisis hit the company in the summer of 2011.
Brooks was found not guilty of four charges including conspiring to hack phones when she was editor of the News of the World and making corrupt payments to public officials when she was editor of the Sun. She was also cleared of two charges that she conspired with her former secretary and her husband to conceal evidence from police investigating phone hacking in 2011.
A spokesman for News UK – the British newspaper publishing arm of Murdoch's media empire – said that they had put in place measures to ensure that the wrongdoing at the News of the World could not happen again.