Scotland is a country deserving to be home governed by Scots, not by Westminster dispatches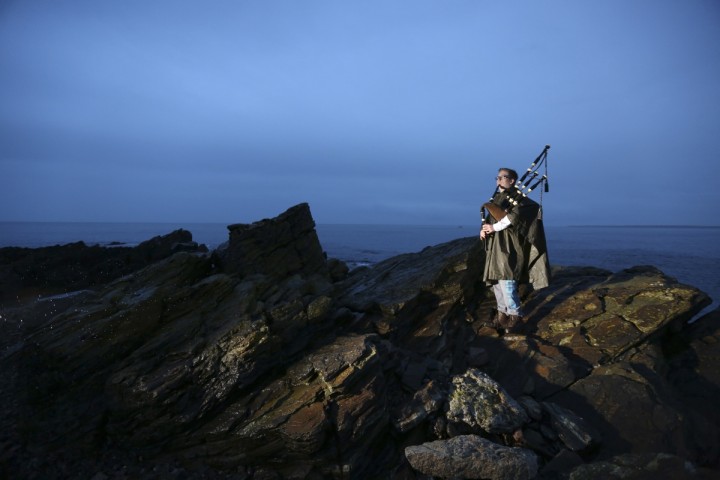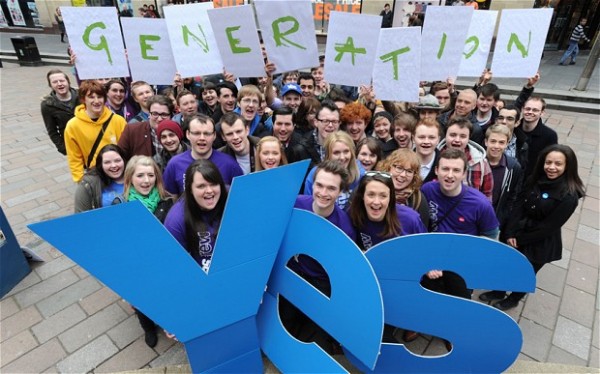 Scotland is a country, and like any other country it deserves to get the government it votes for. As part of the UK, that happens well under half of the time.  Scots can't and don't affect the outcome of UK elections, so the rest of the UK doesn't need Scottish help – so why keep subjecting ourselves to government we rejected at the ballot box?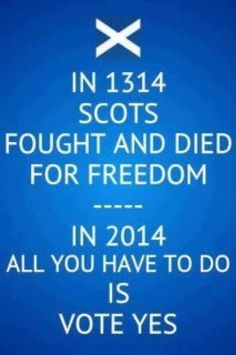 "Scotland's referendum on 18 September 2014 is a choice between two futures.
If we vote Yes, we take the next step on Scotland's journey.  We will move forward with confidence, ready to make the most of the many opportunities that lie ahead.
The most important decisions about our economy and society will be taken by the people who care most about Scotland, that is by the people of Scotland. The door will open to a new era for our nation.
Scotland's future will be in Scotland's hands."
– The Scottish Government, St Andrew's House, Edinburgh  (aye, where else?)
Get the Government voted by Scots:  The Tories are in power in the UK, although the majority of Scots have chosen the opposition. The Scots are outnumbered ten to one, so whatever government the Scots will vote for in a UK General Election, it's highly unlikely that a Scottish Political Party will ever be part of a UK Government representing Scotland's needs.
Secure Oil Funds in the Scottish North Sea:  Scotland's Oil reserves are vast. Most of the revenue and tax made from Oil goes directly to Westminster. There are claims that Scotland will be one of the wealthiest nations in Europe if we become independent.
Scotland has the resources and finances to become independent. One of the early myths created by the No Campaign has been debunked and even the Unionists agree that Scotland has what it takes to become independent and the Scottish people will be better off financially.
More jobs created for Scots:  With an ever rising energy and electricity demand in Europe, Scotland can become one of the global leading suppliers. Scotland has many natural resources that allow sustainable energy for which more jobs are created. Furthermore when Scotland becomes Independent, many centralized services and offices, like Tax Offices, DVLA etc have to be set up in Scotland. This will create many jobs and jobs provide an income, which is good for the local economy and beneficial for locals.
Scottish families stand to benefit:  The future Scottish Government already has plans for creating better Healthcare and improve the situation for Pensioners and people with children, retaining the minimum wages, and scrapping London's bedroom tax.
Fair wages:   The difference in wage in London compared to Scotland for example is huge. This gap is growing and with the current UK Government the richest only seem to get richer and the poor becoming poorer. With a smaller gap between the highest and lowest incomes, there will be less jealousy, greed and more happiness.
There's nothing wrong with the English people being southern friends of the Scots.  But the English do have different social values and priorities to Scots, so English should not impose their values on the Scots.
A NO vote will only keep decisions for Scotland outside Scotland.  By voting NO for independence, it is a dead set guarantee that Scots will have less control over the changes that are going to change, because the government who makes these decisions is still in Westminster.  End of Story.
A NO vote will be an act of 'no confidence' in the Scottish Government.  Trust the Scots to run Scotland.  Who else can be more trustworthy?  David Cameron?  Ed Miliband?
And where is the wealth distributed in England's United Kingdom for itself?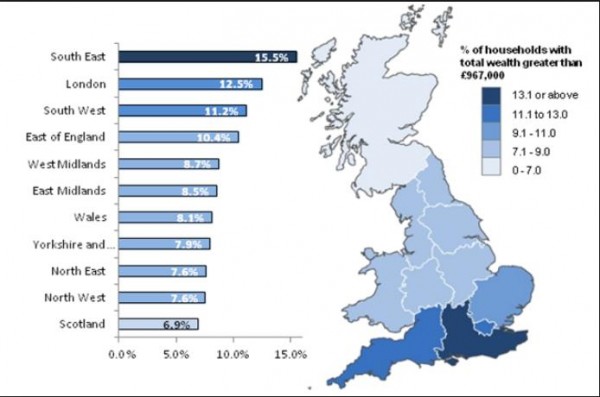 London and Hampshire have the greatest concentration of wealthy people in the UK, according to the 2007 "wealth map".   The English capital is home to 13 per cent of the wealthiest individuals across England's UK, while eight per cent live in Hampshire.
But areas that are traditionally seen as less affluent have also made it into the map's top 10, with Yorkshire in third place at 6.1 per cent and Lancashire in sixth (3.8 per cent) behind home counties Surrey (5.8 per cent) and Middlesex (4.8 per cent).
Scotland will be wealthier as an independent country than it will inside the UK. Even before you discuss possible savings from policy changes (like more sensible defence spending), Scotland subsidises the UK by billions of pounds every year, according to Westminster's own figures. The longer Scotland stays in the UK, the poorer Scots will remain.
Scotland's future is bright. Oil will last for decades yet.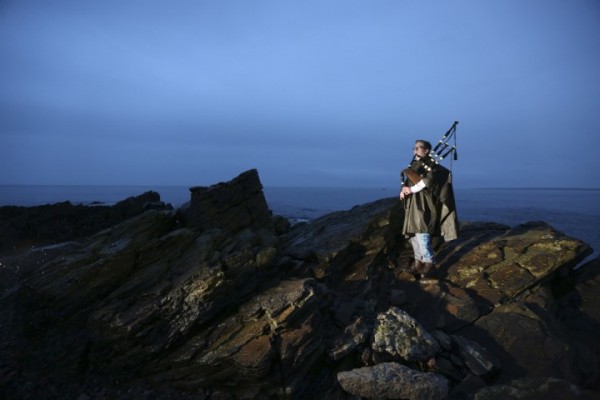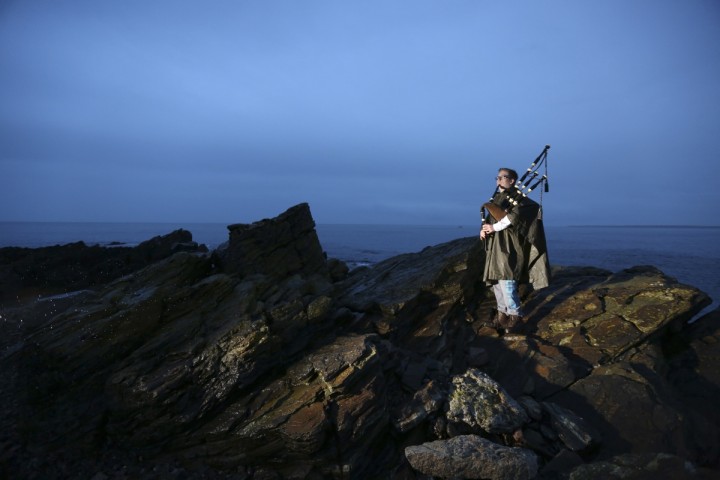 "No one, absolutely no one, will do a better job of running Scotland than the people who live and work in Scotland. On September 18, we have the opportunity of a lifetime."
– First Minister Alex Salmond, August 5, 2014 leading the "Yes" campaign to Scottish Independence.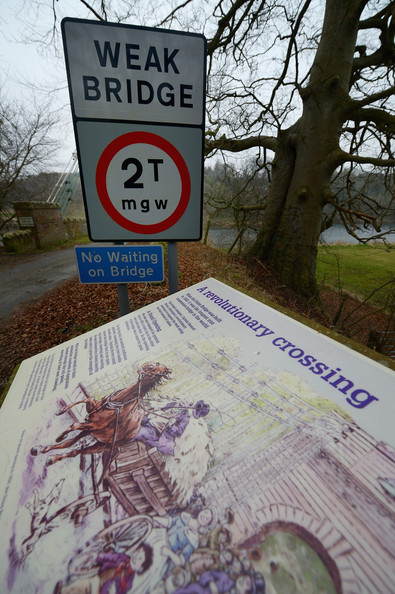 Postscript – 2014 Referendum Result is 'No'
['Results of Scotland independence referendum: 'No' campaign victorious', by Euan McKirdy, Laura Smith-Spark and Nic Robertson, CNN, September 19, 2014, http://edition.cnn.com/2014/09/18/world/europe/scotland-independence-vote/index.html]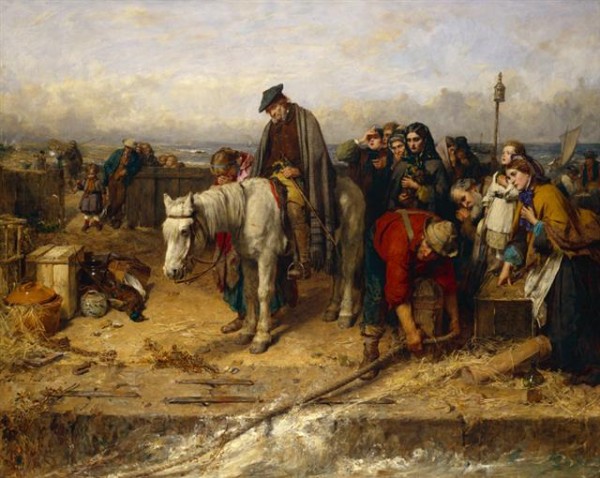 As reported by CNN:
"Scotland will remain part of the United Kingdom — along with England, Wales and Northern Ireland — following a historic referendum vote. A majority of voters rejected the possibility of Scotland breaking away and becoming an independent nation.
With 31 of 32 councils declared, the "No" campaign has won the referendum on Scottish independence.  The counting officer for Edinburgh, Sue Bruce, explained just after 10 p.m. that each ballot will be double-checked, to verify each voter's decision.
Scottish First Minister Alex Salmond admitted defeat in Scotland's independence referendum Friday — and urged the rest of Scotland to do the same.  In a televised statement, he thanked Scotland "for 1.6 million votes for Scottish independence."A turnout of 86% is one of the highest in the democratic world for any such vote, he said.
Voters in Scotland made their choice Thursday — remain part of the United Kingdom, or form their own independent nation. They chose to remain.
With 31 of 32 of councils reporting, the "No" campaign had garnered enough votes to secure their victory, and with it Scotland's continued place within the union.
The first councils to declare all went to the "No" campaign, as did the capital, Edinburgh, which voted overwhelmingly to stay in the union with 123,927 for "Yes" and 194,628 "No" votes. Argyll and Bute and Aberdeenshire also voted "No."
Glasgow delivered a solid win for the independence camp with 194,779 votes for "Yes," and 169,347 for "No," but lead was not big enough to overturn the "No" camp's overall majority so far, which maintains a 8% (54% to 46%) lead over pro-independence camp.
The majority of the early results have been going the anti-independence camp's way. The "No" campaign extended lead with Angus and East Dunbartonshire council results, alongside a landslide in Dumfries and Galloway. The oil-rich city of Aberdeen also strongly voted for the unionist camp.
The city of Dundee was the first big gain for the independence campaign, voting "Yes" with 53,620 votes for, 39,880 against.
Slàinte Dundee!
The individual counts by local authorities are ultimately immaterial as it is the total number of votes countrywide that will determine the outcome.
Polls at more than 5,500 stations across all districts, from the remote highlands and islands to the big cities of Edinburgh and Glasgow, closed at 10 p.m. local time (5 p.m. ET). People still in line to vote at that time were allowed to cast ballots.
High Turnout
The first districts to report turnout reported high participation — well over 80% in most cases – Mary Pitcaithly, chief counting officer, announced in Edinburgh.
Turnout in Glasgow, one of the Yes campaign's heartlands, was a relatively disappointing 75%.
More than 4.2 million people registered to vote on the question: "Should Scotland be an independent country?"
A vote for independence would have meant Scotland, with its population of about 5.3 million, splits from the rest of the United Kingdom, made up of England, Wales and Northern Ireland, in addition to Scotland.
"The people of Scotland have engaged in this conversation," Phil MacHugh, a spokesman for the "Yes" camp, told CNN on Thursday night. "They have really gone out there, found out the information that they wanted to know, and made that choice today."
For the first time, the vote was extended to 16- and 17-year olds living in Scotland. Nearly 110,000 people younger than 18 have registered to vote.
Voters in the referendum did not have to be British citizens; Commonwealth, Irish and EU citizens who live in Scotland and are registered to vote there can cast a ballot. However, Scots living outside Scotland do not have a say.
Nearly 790,000 people applied for a postal vote — the largest volume of registration for postal votes ever in Scotland.
After the polls closed, Salmond tweeted, "This has been a remarkable day. Scotland's future truly is in Scotland's hands."
Irrespective of the foreigners who voted, the Referendum was disrespectful of The Clearances and ignored Expats and their millions of descendents.
Scotland is a country deserving to be governed by Scots, not by Westminster Labour!
"The questioning spirit is the rebellious spirit. A rebellion is always either a cloak to hide a prince, or the swaddling wrapper of a new rule."  – Honoré De Balzac.