The Nationalism Project – Ulster
This is an extract of The Nationalism Project, an impressive collection of scholarly resources related to the study of Angloceltic nationalism including leading definitions of nationalism, book reviews, web links, subject bibliographies, a bibliography of more than 2,000 journal articles, and much more.
The site was created in 1999 by Eric G.E. Zuelow, currently Assistant Professor of European History at the University of New England in Biddeford, Maine, America.
This article extract concerns nationalism specific to Ulster.  Updates have been made.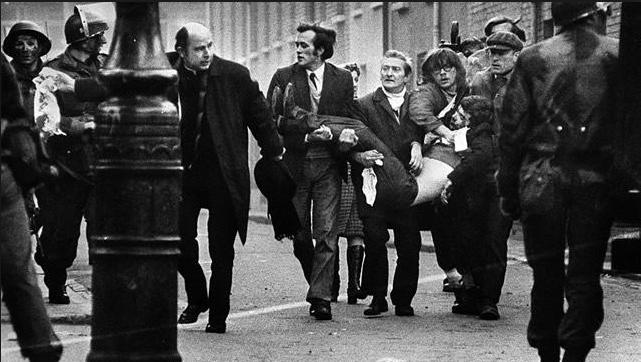 Ulster Politics

Nidex:  Is an online index of political parties and political organisations in Ulster (Northern Ireland).

Whyte's Northern Ireland Elections Site: This site was constructed by Nicholas Whyte, a former Alliance Party candidate in Northern Ireland and a recent Ph.D.. in the history of Science. He writes: "This site is a guide to recent elections in Northern Ireland. Specifically, it looks at the 1999 election to the European Parliament, 1998 elections to the new Northern Ireland Assembly, the 1997 Westminster parliamentary election, and the 1996 Forum and talks election. I also hope to expand it to include more details of the 1997 local government elections and elections from farther back as well."

Public Records Office of Northern Ireland (PRONI): The official place of deposit for public records in Northern Ireland. Its aim is to collect, catalogue and preserve any documents that provide a legal or historical record of the past.

Ulster Nation: This website "seeks to advance the cultural, social, economic, and political well-being and independence of the Ulster people by all honourable means. Thus, the central idea that drives our supporters is the redemption of our independence as a nation. We envision a free and prosperous sovereign Ulster state founded on private property, free association, fair trade, sound money, equal justice before the law and secure borders. A bold, self-confident civilisation  based in large part on its cultural and ethnic Ulster-Scots roots, without ignoring the contribution of Ulster-Gaels." It includes links, a comments section, election information, book reviews, a FAQ section, limited cultural information, and other material.
Ulster Political Parties

Sinn Féin: Frequently called the "political wing of the IRA," Sein Fein declares itself the oldest political party in Northern Ireland. The party's roots are complex, but it gained a substantial boost in public opinion during the hunger strikes in the early 1980s. At that time, Gerry Adams and the rest concluded that a political solution to "The Troubles" is possible. Since that time, Sein Fein has had a fairly credible claim toward speaking for a substantial percentage (though not a majority) of the Catholic voters in Northern Ireland.

Democratic Unionist Party:  (DUP) was founded in the early 1970s and represents the most hard-line Unionist stance among "legitimate" Unionist Parties.

"Our vision is to maintain and enhance Northern Ireland's constitutional position within the United Kingdom, achieving long-term political stability to deliver a peaceful and prosperous future for our people.

The DUP wants Northern Ireland to celebrate its centenary as a beacon of achievement within the United Kingdom.  We want the hard won peace and stability to build a prosperity that flows to each district, community and family.  We want to normalise our institutions and political arrangements to demonstrate that democratic standards apply and fairness and equality of opportunity is the right of all.

The DUP wants to strengthen our relationship within the United Kingdom.  Our representatives in Westminster dedicate themselves to involvement in the affairs of the Nation and in partnership with their Stormont colleagues maximise Northern Ireland's contribution to the United Kingdom.  We will work to increase the respect and status of our region within the Union."

Social Democratic and Labour Party:  (SDLP) (Irish: Páirtí Sóisialta Daonlathach an Lucht Oibre) is a left-wing social-democratic and Irish nationalist political party in Northern Ireland.

Its platform advocates Irish reunification, and the further devolution of powers while Northern Ireland remains part of the United Kingdom.

The SDLP has fraternal links with other European social-democratic parties, including the Irish Labour Party and British Labour Party and is affiliated with the Socialist International and Party of European Socialists.

Ulster Unionist Party: (UUP) is a dominant unionist party in Northern Ireland. The Party has its roots in the late nineteenth century and represents the more moderate Unionist stance. "Patriotism has to do with keeping the country in good heart, the community ordered with justice and mercy."

Alliance Party of Northern Ireland:  The Alliance Party of Northern Ireland (APNI) (Irish: Páirtí Comhghuaillíochta Thuaisceart Éireann; Ulster Scots: Alliance Pairtie o Norlin Airlann) is a liberal and centrist political party in Ulster.

It is Northern Ireland's fifth-largest party overall, with eight seats in the Northern Ireland Assembly.

Founded in 1970 from the New Ulster Movement, the Alliance Party originally represented moderate and non-sectarian unionism. However, over time, particularly in the 1990s, it moved towards neutrality on the Union, and has come to represent wider liberal and non-sectarian concerns. It opposes the consociational power-sharing mandated by the Good Friday Agreement as deepening the sectarian divide, and, in the Northern Ireland Assembly, it is designated as neither unionist nor Irish nationalist, but 'Other'.

Traditional Unionist Voice: (TUV) is a unionist political party in Northern Ireland founded on 7 December 2007, as an anti-St Andrews Agreement splinter group from the Democratic Unionist Party (DUP).
The founding principles of the TUV are:

Retention of the Union between Northern Ireland and Great Britain
Commitment to a form of devolution that rejects mandatory coalition
That the rule of law must prevail in every part of Northern Ireland and be administered without fear or favour
Support for socially conservative values.

Progressive Unionist Party:  (PUP) is a minor unionist political party in Ulster, formed in 1979 from the Independent Unionist Group operating in the Shankill Road area of Belfast.

With links to the Ulster Volunteer Force (UVF) and Red Hand Commando (RHC), it was for a time the only left-wing party of unionism in Ulster having its core support base in the loyalist working class communities of Belfast.

"The party is steadfast in its commitment to strengthening the political union between the people of Great Britain and Northern Ireland within the context of the United Kingdom. The Progressive Unionist Party strongly believe that a cordial Union of diverse peoples based on a multi cultural and multi faith society, is the most effective way of achieving social and political harmony."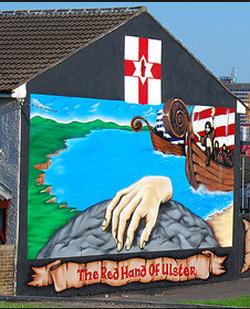 Organizations for Ulster Independence  (various interpretations)


The Ulster Covenant: The Ulster Covenant was a response to the latest Home Rule Bill to be proposed in Westminster to settle the long running 'Irish Question' by giving Ireland a limited measure of local autonomy.  The first two bills had been rejected by Parliament in 1886 and 1893.  In June 1892 a demonstration in Belfast, the Ulster Convention, was chaired by the Duke of Abercorn and attracted 20,000 opponents to Home Rule.

Provisional Irish Republican Army: (PIRA or 'Provos' for short) remains an Irish republican paramilitary organisation that seeks to remove Northern Ireland from the United Kingdom and to bring about an independent republic encompassing all of Ireland.

The Provisional IRA does not have a website for obvious reasons.  Prior to the Provisional IRA forming there existed the IRA (Official Irish Republican Army or Official IRA (OIRA) – a similar Irish republican paramilitary group was formed in 1919 during the Irish Civil War in the south.  The Official IRA in the north held the similar goal to remove Northern Ireland from the United Kingdom but also create a "workers' republic" encompassing all of Ireland.

 In December 1969, the Provisional IRA formed, so splitting from an increasingly Marxist Official IRA which was thence nicknamed the 'Red IRA'. Shortly afterwards, the Official IRA phased out, while the new Provisional IRA grew in activity and prominence. So began 'The Troubles' era in NI for three decades till 1998, when it claimed to be disbanded after Good Friday Agreement (GFA).  Then again in 2005 it officially ended its armed campaign, while maintaining a seven-man Provisional Army Council (PAC), senior leadership and some departments with specific responsibilities.

PAC oversees both PIRA and Sinn Féin with an overreaching strategy.  Individual members remain involved in criminal activity such as large scale smuggling, isolated incidents of violence including murders.  At lower levels, activity takes place without the knowledge of leadership.

On 20th January 2017, former IRA commander Martin McGuinness announced his retirement as Stormont's Deputy First Minister citing ill-health ahead of a Stormont MLA election.

Ulster Independence Movement: (UIM)  describes itself as an Ulster-nationalist political organisation, in effect the Ulster National Party.

As a political party it was officially deregistered in 2005

"We believe that unionism as it is traditionally understood is no longer relevant to the present. The Union between Great Britain and Northern Ireland died on November 15th 1985 when the Hillsborough Pact gave Dublin a 'right' to interfere in our homeland's internal affairs."

Formerly The Ulster Third Way (U3W) the party was organised by David Kerr, who had previously campaigned as an 'independent Unionist' (chairing the small North Belfast Independent Unionist Association) as well as for the British National Front. It followed an Ulster nationalist ideology.

The U3W is committed to securing independence for Northern Ireland from both the United Kingdom and Ireland. U3W draws upon grass-roots support in loyalist areas, emphasising Ulster-Scots and the Battle of the Boyne commemorations and has its main office in the Shankill area of Belfast.

It advocated the creation of an "all-Northern Ireland" identity as a basis for independence and as a solution to the Troubles.  During the 1990s it advocated Protestants learning the Irish language.
The organisation publishes the journal 'Ulster Nation', as well as irregular books and pamphlets about Ulster nationalism.  It compares its aims with those of Neo-Confederates in the Southern United States and declared its support for the re-establishment of the Confederate States of America.

Ulster Nationalists:  is an Ulster (NI) based political movement of radical Ulster Nationalists.

Ulster's Celtic heritage is both unique and yet related to the outside influences of the neighbouring island of Britain and Southern Ireland.   Around 7,000 B.C. settlers crossed the narrow channel between Britain and Ulster to become Ireland's first inhabitants.

The Celtic Ulaid from Britain became an elite class in Ulster. Ulster gets its name from the Gaelic Tir Ulad, or Uladhstir in the Norse tongue, which literally means "Land of the Ulaidh".

Thirty centuries later they were peaceably joined by new settlers from what is now Scotland, who brought agriculture and commerce skills – invaluable to the development of Ulster.

However their non-conformist religious practices later clashed with the "Native-Irish" Catholic population and also with the English ruling Anglican state.

The persecution they received drove many from their homeland to other nations namely the USA, in search of religious tolerance, so the first immigrants of "Irish"/Ulster origin came in 1717+ with the Ulster-Scots Presbyterians. This is shown by the immense Ulster-Scots or Scotch-Irish influence in America.

"Ulster Nationalism is a new thinking dedicated, not to a foreign sovereign state (Britain, Ireland) but to Ulster itself our motherland!

"

Ulster Awake: Is an ethno-British nationalist organisation defending the distinctive Ulster Scots-Irish race and desire for an independent nation state, separate from both the UK and Ireland.

Republican Sinn Féin: (RSF) (Irish: Sinn Féin Poblachtach): is an Irish Republican political party operating in Ireland.  RSF claim to be heirs of the Sinn Féin party founded in 1905 and took its present form in 1986 following a split with Provisional Sinn Féin.  RSF members take seats when elected in local Irish councils but do not recognise the partition of Ireland and subsequently the legitimacy of the Northern Ireland ("Stormont") or Republic of Ireland ("Leinster House") governments, so does not register itself under them. The party emerged around the supporters of Ruairí Ó Brádaigh and Dáithí Ó Conaill, who as Irish republican legitimists, rejected the reformism of Gerry Adams and other members of Sinn Féin who supported abandoning the policy of abstentionism. They support the Éire Nua policy which allows for greater local governance. RSF holds that the Irish Republic continues to exist and that the Continuity Irish Republican Army Council is its de jure government. Hence, if elected, its members refuse to take their seats in the Oireachtas. The organisation views itself as representing "true" or "traditional" Irish republicanism, while in the mainstream media the organisation is portrayed as a political expression of "dissident republicanism". Republican Sinn Féin rejects the Good Friday Agreement and indeed the Anglo-Irish Treaty; as part of this they refuse to discount Irish republicans using militant means to "defend the Irish Republic" (see physical force Irish republicanism) and considers the Continuity Irish Republican Army (CIRA) to be the legitimate army of the Irish Republic.

Continuity Irish Republican Army:  ('Continuity IRA' for short) is an Irish republican paramilitary group struggling to bring about a united Ireland though protest and militant rebellion.

It emerged from a split in the Provisional IRA in 1986 but did not become active until the Provisional IRA ceasefire of 1994, filling the subsequent militant void establishing links with the political party Republican Sinn Féin (RSF).


Like the Provisional IRA before it, the Continuity IRA sees itself as the direct continuation of the original Irish Republican Army and styles itself as simply "the Irish Republican Army" in English or Óglaigh na hÉireann (Volunteers of Ireland) in Irish.

It sees itself as the national army of an Irish Republic covering the whole of Ireland. Its leadership was/is based in Munster and Ulster and core membership numbers about 150.

Some disaffected established the short-lived Concerned Group for Republican Prisoners, else joined the Continuity IRA, causing conflicts.

During Easter 2016, the Continuity IRA marched in paramilitary uniforms through North Lurgan, Co Armagh, without any hindrance from the Police Service Northern Ireland which monitored the parade from a police helicopter.

Irish National Liberation Army:  The Irish National Liberation Army (INLA, Irish: Arm Saoirse Náisiúnta na hÉireann)[2] is an Irish republican socialist paramilitary group formed in December 1974, during "the Troubles". It sought to remove Northern Ireland from the United Kingdom and create a socialist republic encompassing all of Ireland. It is linked to the Irish Republican Socialist Party (IRSP).


The INLA was founded by former members of the Official IRA (1919-1969) who opposed that group's ceasefire, and so like the Provisional IRA but to a lesser extent it waged a paramilitary campaign against the British Army and Royal Ulster Constabulary (RUC) in Northern Ireland.

Declaring a ceasefire on 22 August 1998, a decade later in October 2009, the INLA formally vowed to pursue its aims through peaceful political means and began decommissioning its weapons.  On 8th February 2010, INLA spokesman Martin McMonagle said that the INLA made "no apology for [its] part in the conflict" but they believed in the "primacy of politics" to "advance the working class struggle in Ireland".

(The Real IRA) is an Irish republican paramilitary organisation which aims to bring about a united Ireland. It formed in 1997 following a split in the Provisional IRA by dissident members, who rejected the Provisionals' ceasefire that year, ahead of the 1998 Good Friday Agreement (GFA).

Like the Provisional IRA before it, the Real IRA sees itself as the only rightful successor to the original Irish Republican Army and styles itself as "the Irish Republican Army" in English or Óglaigh na hÉireann in Irish, waging a nationalist separatist campaign in Northern Ireland against the Police Service of Northern Ireland (PSNI)—formerly the Royal Ulster Constabulary (RUC)—and the British Army.

It was responsible for the 1998 Omagh bombing, in 2009 it claimed responsibility for an attack on Massereene Barracks in Antrim town killing two British soldiers and orchestrated a protest riot in the Ardoyne area of Belfast and in 2012 shot dead a prison officer near Lurgan.

In 2015, it bombed Derry's Probation Board offices the perimeter fence of a British Army Reserve base.

In July 2012, the Real IRA merged with Republican Action Against Drugs (RAAD) and other small republican militant groups, after which media began to referring the organisation as the 'New IRA'.  In May 2016 three men were shot in paramilitary style attacks in republican areas of Belfast during a 24-hour period, leaving two injured and one dead.  Gangland style attacks continue to the present.

Currently, the Real IRA remains the largest and most active of the "dissident republican" paramilitary groups operating against the British security forces with about 300 military activists  backed up by associates.

Óglaigh na hÉireann:  (ONH) (Irish for 'soldiers of Ireland')  is an active splinter paramilitary group from the Real IRA since 2009 waging a militant campaign in NI for Irish republicanism.

It has at least 50 members based in the Belfast area, Derry, Strabane and South Armagh/North Louth.
Most recently, ONH has been connected with gangland style bombings and shootings in County Derry, north Belfast and west during 2016 and into 2017.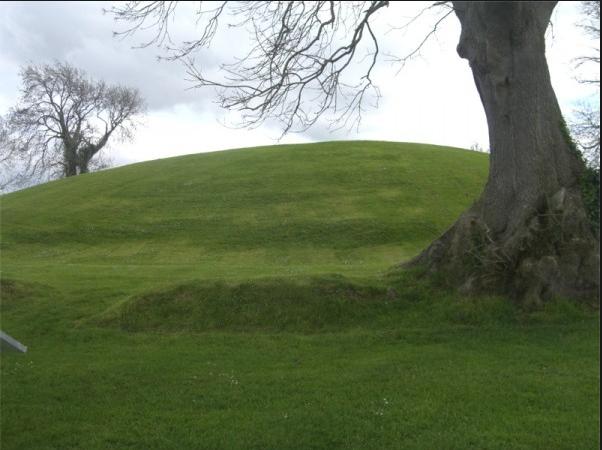 Tourism/Heritage

Discover Northern Ireland: The official site of Tourism Northern Ireland (Tourism NI).

The Federation for Ulster Local Studies Limited: The Federation was set up to promote and assist with the study and recording of the history, antiquities and folk-life of Ulster, to develop communication and co-operation between local historical groups and between these groups and relevant statutory and voluntary organisations.

The Ulster Heritage DNA Project:

The goal of the Ulster Heritage DNA Project is to study the surnames, families, clans, of the people of Ulster and their descendants throughout the Diaspora. Another goal is to allow Ulster descendants in the Diaspora to locate their kin still in Ulster and to communicate with them.

The Ulster DNA Project will use Y chromosome test to accomplish these goals.

  Anyone from Ulster or of Ulster ancestry is urged to participate. This includes Ulster families of Native Irish, Hebridean Gael, Ulster Scot and English Settlers, Norman, Welsh, Frisian, Manx, etc., origins.

Ulster has a very rich history that includes Native Irish clans, Gallóglaigh clans, Vikings, Ulster Scot families with more recent links to Scotland, etc.; all these will be effective researched via this DNA Project.

Ulster Architectural Heritage Society:  Promoting appreciation and enjoyment of good architecture of all periods and encouraging the conservation, restoration and re-use of Ulster's built heritage to regenerate and sustain our communities.

National Museums Northern Ireland:  Across three unique sites, we care for and present inspirational collections that reflect the creativity, innovation, history, culture and people of Northern Ireland.

At the Ulster American Folk Park, immerse yourself in the world famous story of Irish emigration at the museum that brings it to life. Follow the emigrant trail as you journey from the thatched cottages of Ulster, on board a full scale emigrant sailing ship leading to the log cabins of the American Frontier.  Meet an array of costumed characters on your way with traditional crafts to show, tales to tell and food to share.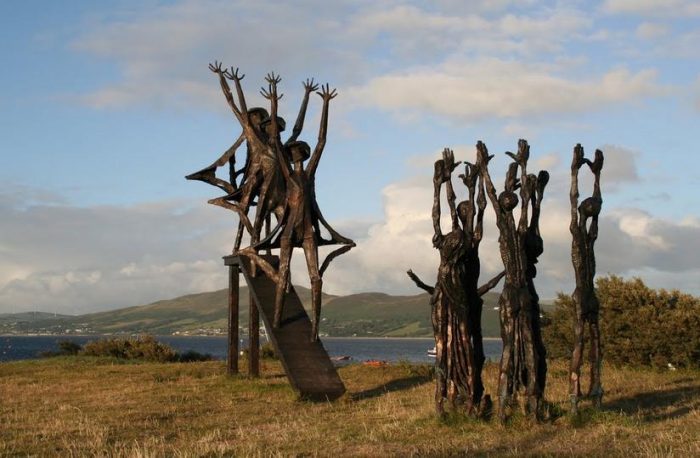 History

Conflict Archive on the Internet (NI):  (CAIN) contains information and source material on 'the Troubles' and politics in Northern Ireland from 1968 to the present. There is also some material on society in the region. CAIN is located in Ulster University and is part of INCORE and ARK.

Throughout history, the island of Ireland has been regarded as a single national unit. Prior to the Norman invasion from England in 1169, the Irish had their own system of law, culture and language and their own political and social structures. Following the invasion, the island continued to be governed as a single political unit, as a colony of Britain, until 1921.

At various times over the next 800 years Irish men and women resisted British rule and attempted to assert Irish independence. Between the years 1916 and 1921 Irish nationalists waged a combined political and military campaign against British occupation. In 1920 partition (dividing Ireland into two sections – the 26 and Six Counties) was imposed by a British Act of Parliament. The consent of the Irish people was never sought nor freely given.

Charles Stewart Parnell (1846-1891): Was an Irish nationalist politician and one of the most powerful figures in the British House of Commons in the 1880s. He created single-handedly in the Irish Party Britain's first modern disciplined political party machine. He held all the reins of Irish nationalism and also harnessed Irish-America to finance the cause. He played an important role in the rise and fall of British governments in the mid-1880s and in Gladstone's conversion to Irish Home Rule

.

The Irish Famine, 1845-50: Another impressive collection of materials relating to the Irish famine.

The Irish Potato Famine: Tourism-related links page addressing the Irish Potato Famine.

H-Albion: Welcome to H-Albion, a member of the H-Net, Humanities & Social Sciences On-Line initiative. H-Albion encourages scholarly discussion of British and Irish history and makes available diverse bibliographical, research, and teaching aids. H-Albion's on-line editors and editorial board serve a broad intellectual community.

Understanding Northern Ireland: The conflict in Northern Ireland as presented by the BBC.

CAIN Web Service -The Northern Ireland Conflict: "The CAIN web site provides a wide range of information and source material on 'the Troubles' in Northern Ireland from 1968 to the present. The site also contains information on Northern Ireland society and politics in the region."

Center for the Study of Nineteenth Century Ireland: "The purpose of the Society is to promote research into Nineteenth-Century Ireland. Its membership is open to scholars both from Ireland and other countries. It welcomes members from a wide range of disciplines: literature, history, economics, geography, sociology, theology, women's studies etc. It thus seeks to foster an inter-disciplinary approach to Ninteenth-Century Irish studies."

Irish Views of the Famine: A collection of primary sources offering a window into the Irish experience during the Famine.

CAIN: Northern Ireland Conflict Archive: "This site contains information and source material on 'the Troubles' in Northern Ireland from 1968 to the present. Also information on society and politics in the region. Material is regularly added to the site and information on particular pages may change. The information is divided into a number of main sections that are accessible by clicking on the 'button' icons below."

Culture

Northern Ireland:  A brief introduction to Northern Ireland – its geographical orientation, demography, symbolism, national identities, ethnic relations, cuisine, economy, industries, society, politics, government, issues, religion and arts and humanities, etc.

Free Presbyterian Church: The Rev. Ian Paisley remains one of the few figures in modern history who has been a successful political and religious leader. While the DUP (see above) is Paisley's political vehicle, his other major creation is the Free Presbyterian Church.

Culture NI: Culture NI is Northern Ireland's leading arts and cultural website, covering music, film, literature, heritage, sport, dance, theatre, the visual arts and much more besides.

With thousands of articles, features, Q&As, reviews, profiles, event listings and multimedia content, Culture NI is Northern Ireland's most popular arts and culture website, a unique and exciting resource for cultural information and arts marketing.

For those searching for things to do in Northern Ireland in the arts and sports, or to take part in arts and cultural activities in Belfast, Derry, or any of the six counties of Northern Ireland.
News Media

Belfast Telegraph: Belfast's major daily newspaper. (Complete version online.)

The Irish News: A daily newspaper with full online content being broadly Irish nationalist in outlook. It focuses primarily on Ulster content, though it is also available throughout Ireland.
The Irish News is the only independently owned daily newspaper based in Northern Ireland.  It has been so since its launch on 15 August 1891 as an anti-Parnell newspaper by Bishop Dr Patrick MacAlister.  In 1892 it merged with the Belfast Morning News and the full title of the paper since been The Irish News and Belfast Morning News. In June 1982, the paper came under control of the company's present owners, the Fitzpatrick Family.
The current editor is Noel Doran.

The Irish Times: A complete online version of one of Dublin's major newspapers. There is also a section on Northern Ireland.

News Now:  NewsNow.co.uk is the UK's first and leading home-grown and independent news aggregation service. Fully-automated, and on a continuous basis, NewsNow displays breaking headlines linking to news websites all around the world.

Belfast Live: The vision for Belfast Live is to be the beating heart and a new voice for a vibrant, exciting city which has left the shackles of the past behind.
We intend to provide in-depth news and information about Belfast, for the people of this new Belfast.
We will cover stories as they break with an energy and enthusiasm which focuses on the real issues which matter to the people of the city. We are as local as our readers and that's why we also care about the issues which they care about.
The people of Belfast are ready for a new voice, one that chats with them rather than talking at them.  That's what Belfast Live is.

Belfast News Letter:  A Belfast perspective on news, sport, what's on, lifestyle and more, from your local paper the Belfast News Letter.  The News Letter is one of Northern Ireland's main daily newspapers, published Monday to Saturday. It is the oldest English language general daily newspaper still in publication, having first been printed in 1737.
The newspaper's editorial stance and readership, while originally republican, is now strongly unionist. Its primary competitors are the Belfast Telegraph and the Irish News. The News Letter has changed hands several times since the mid-1990s, and since 2005 is owned by the Johnston Press holding company Johnston Publishing (NI). The full legal title of the newspaper is the Belfast News Letter, although the word Belfast does not appear on the masthead any more.

Ulster Herald:  The Ulster Herald circulates weekly in the County town of Omagh and surrounding towns and villages.
The Ulster Herald continues to be the largest selling newspaper in West Tyrone and combined with the Tyrone Herald and the Strabane Chronicle, the Ulster Herald Group has the largest circulation in Tyrone. The Ulster Herald is a weekly newspaper based in Omagh, County Tyrone, Northern Ireland, UK, known locally as The Herald.
It is published by the North West of Ireland Printing & Publishing Co. Ltd. The Ulster Herald hosts the main printing press in the region (Gortrush Industrial Estate), so the same team that contributes to the Herald, also contribute to other local papers, such as the Strabane Chronicle, Fermanagh Herald and Tyrone Herald.
The newspaper was founded in 1901, and retained much of the same format until 2001, when a major reformat took place. From the 22 June 2006 issue, a new compact format was established, following almost unanimous requests from the readership. The current title editor is Nigel McDonagh.

The Ulster Gazette and Armagh Standard:  The Ulster Gazette has been published since 1844 in the City of Armagh. The Gazette circulates throughout the entire City and District of Armagh, Portadown and other parts of the Borough of Craigavon and the Districts of Dungannon and Newry City, with penetration into Co. Monaghan.

Ulster Star: The Ulster Star is a newspaper based in Lisburn, County Antrim, Northern Ireland, UK. It provides a Lisburn perspective on news, sport, what's on, lifestyle and more.  It is published by a holding company titled Johnston Publishing (NI), part of Johnston Press, who own thirty-seven papers across Ireland.

Mid-Ulster Mail: The Mid-Ulster Mail is a newspaper based in Cookstown, County Tyrone, Northern Ireland. As well as serving Tyrone, it also covers Magherafelt, County Londonderry. It is published by Johnston Publishing (NI), part of Johnston Press who own thirty-seven papers across Ireland. Current editor is Peter Bayne and reporters are Patricia Devlin, Stanley Campbell and Gillian Mc Dade.

The Ulster Fry:  The Ulster Fry is a parody news site and presents its own version of current affairs through comedy and satire.

Sunday World: The Sunday World is an Irish newspaper of Right wing populism published by Sunday Newspapers Limited, a division of Independent News & Media. It is the second largest selling "popular" newspaper in the Republic of Ireland and is also sold in Northern Ireland (where a modified edition with more stories relevant to that region is produced).
In 2012, 2013 and 2014 voluntary redundancy schemes were put in place, such that it shares functions with The Irish Daily Star and The Herald.
The Sunday World was Ireland's first tabloid newspaper. It was launched in 1973 by Hugh McLaughlin and Gerry McGuinness. It is currently the biggest selling tabloid newspaper in Ireland with combined sales north and south of around 210,000 copies each week. Its current editor is Colm MacGinty based in Talbot Street, Dublin.

Irish Republican News: A Republican/Nationalist weekly newspaper. They write: "An Phoblacht/Republican News is Ireland's biggest selling political weekly newspaper and has been a source of uncensored news on world affairs and the Irish struggle for national self-determination for over 25 years."

The Irish People: "The Irish People is the only newspaper of its kind published in the United States. The Irish People is published 50 weeks a year since 1971. A sixteen page political weekly, The Irish People gives up-to date, uncensored information pertaining to the war in northeast Ireland. It also keeps its readers abreast of events here in the United States aimed at combating the injustices carried out by the British forces of occupation."

An Sionnach Fionn: (ASF) Irish Republican News And Opinion.

"An Sionnach Fionn or "The White Fox" is an independent media website featuring Irish Republican commentary on national and international news, politics, history and culture.

Since 2011 ASF has promoted progressive opinion and analysis on the island nation of Ireland, advocating the social-democratic and secular principle that its citizens should serve, in the words of the Fenian maxim, ní bóna ná coróin ("neither crown nor collar").

ASF supports the restoration of Ireland's indigenous language and culture through the establishment of a pluralist, all-island Gaelic Republic. The website also features reports on Irish Geek culture, from books to movies, comics to television."

An Phoblacht: (The Republic) is an Irish online journalbased in Dublin which supports the independence of the Irish republic.

It follows in a long line of republican journals over the past 200 years since the first republican paper, the United Irishmen's Northern Star (1970s Belfast); the Young Irelanders' Nation of the 1840s, edited by Thomas Davis; the Fenian paper, The Irish People 1863-'65; and the numerous other republican papers to date.

Although relaunched in 1970, the title An Phoblacht has a long and historic association with the Republican Movement and was used first used in its English form, The Republic, by the Dungannon Clubs in Belfast in 1906. The clubs were founded by Denis McCullough and Bulmer Hobson and their first task was to start a weekly paper. They managed to scrape together £60 and the first issue of The Republic appeared on December 13th, 1906.

An Phoblacht as set out in the first print issue in 1906 in a short article written by Bulmer Hobson, outlined the paper's separatist policy:

"Ireland today claims her place among the free peoples of the earth. She has never surrendered that claim, nor will ever surrender it, and today forces are working in Ireland that will not be still until her claim is acknowledged and her voice heard in the councils of the nations."