Only fools holiday in backward Third World countries like Indonesia

Why risk holidaying in backward Third World countries when they have no idea, shit standards, and the locals hate tourists?
In Indonesia for instance,
get mugged, raped or murdered,
get run over by chaotic traffic,
get poisoned at a restaurant,
get drinks spiked at a bar,
have your bar blown up (Bali in 2002),
get tsunamied (Banda Aceh 2004),
get swindled when hiring a motorbike or jetski,
be stranded for weeks because of volcanoes erupting (Bali in 2016),
have your plane crash (multiple every year),
have your Indonesian pilot drunk like this one..
https://www.youtube.com/watch?v=6r2tz2qkg-Y
This Garuda pilot, Tekad Purna (32) was set to fly Garuda's domestic budget carrier Citilink – budget for a reason: shit pilots.
Security group think said nothing.  He made it to the the Airbus A320 aircraft cockpit and was only stopped from taking off after passengers complained about hearing his drunken announcements.  Indeed many passengers disembarked.
The flight was from Surabaya to Jakarta running an hour behind schedule (typical for Indonesia) and had 154 passengers on board.
Worse is that the airline lied stating publicly initial tests of drug and alcohol were negative.
They lied.  Tekad Purna's PCA (prescribed concentration of alcohol) registered 0.175 at the Central Laboratory of the National Drugs (BNN) as well as showing signs of drug impairment from marijuana.
In December last year, three crew members, a pilot and two flight attendants were arrested for consuming crystal methamphetamine, known locally as shabu-shabu, at a hotel.
In April 2016, the wing of a Boeing 737-800 flown by Indonesian Batik Air while taking off from Jakarta sliced off the wingtips of another aircraft.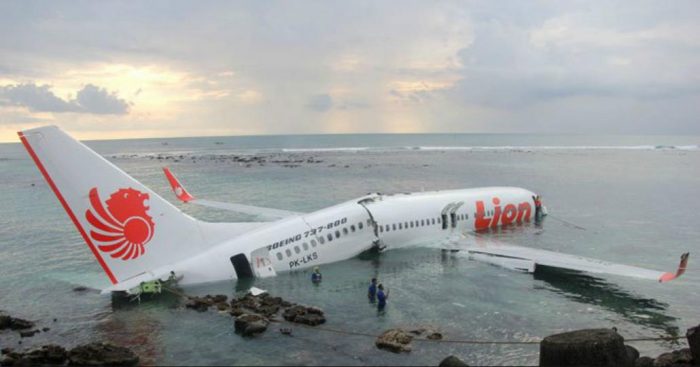 Low-cost Indonesian airline Lion Air missed landing at Bali.  Another one hit a cow on the Jalaluddin airport runway at Sulawesi.
Even the Indonesian military has no idea. Last December a C-130 Hercules military transport crashed into a mountain shortly after takeoff in Papua killing all 12 people on board.  And six months prior, another C-130 crashed near a residential neighbourhood with 12 crew and 109 passengers on board shortly after taking off from Medan, killing all aboard, along with 22 people on the ground.
In 2015, Indonesian Trigana Air Service Flight 257 on approach to Oksibil Airport slammed into Tangok Mountain killing all 54 people on board.  And Aviastar Flight 7503 hit Latimojong Mountain killing all 10 on board.
There are multiple aircraft crashes in Indonesia every year going back to when Indonesia first had aircraft, 1940.  (Read More)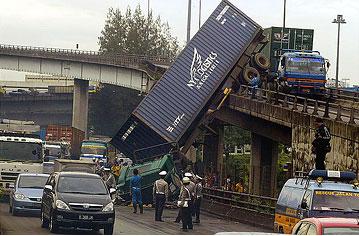 Indonesian police investigate the scene of a traffic accident in Jakarta on February 10, 2006
Just before Christmas this year three terrorists were killed after a bomb was thrown at police officers during a raid of a house in South Tangerang, about 25 kilometres south-west of Jakarta.
Australia's Department of Foreign Affairs and Trade has warned Australians to avoid travelling to Indonesia due to the terrorism threat being probable, stating that terror attacks could occur anywhere at any time in Indonesia, including in Bali.
"Indonesian authorities continue to arrest terrorists who have allegedly been in the advanced stages of attack planning," it said. "The terrorist threat level in Indonesia remains high."
Holidaying in the Third World is for fools
Perth man Joshua Hughes was badly beaten by nightclub security after a run-in with a pickpocket at the Sky Garden Nightclub in Kuta (Bali).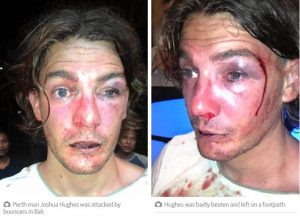 Victorian firefighter Andrew Newton died after colliding with the back of a garbage truck whilst riding his motorbike between Kuta and Sanur.
A young Australian woman leaves a Bali nightclub, accepts a ride on a motorbike, is taken into the bush, beaten, raped and robbed.
In Kerobokan, a couple riding a motorbike near the jail are threatened and robbed at gunpoint. Several days later the same thing happens to a different victim.
Every day almost nine Australians go missing, get hurt or die overseas in Third World countries, with Indonesia and Thailand among the most dangerous places to visit.
As the family of Rye Hunt processed news of the Aussie backpacker's tragic death in Brazil, statistics provided by the Department of Foreign Affairs and Trade, showed 1224 Australians did not return from overseas trips in the year to June 8, 2016.
Rye Hunt went missing in Brazil and was later found deceased.
Another tragic case was the murders of two West Australian surfers in Mexico last December.  Adam Coleman and Dean Lucas, both 33, were shot dead by robbers and their van set alight, on a gang-plagued roadside in Sinaloa.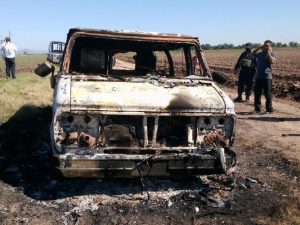 Australian surfers Adam Coleman and Dean Lucas in Mexico mugged, shot dead and incinerated
Despite being only the fourth most visited country by Australians, Thailand recorded the highest number of deaths and serious injuries with a total of 325.  Indonesia was second with 237 deaths and injuries, followed by the US with 178 and the Philippines (167).
They hate us.
In 2014 on a Thai beach, Burmese barmen 'Saw' and 'Win' savagely raped British backpacker Hannah Witheridge before hacking her and her boyfriend Daniel Miller to death with a garden hoe.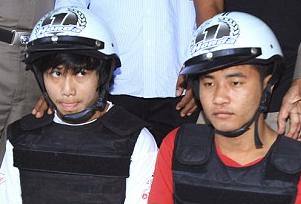 The burmese human butchers
Australians were most likely to go missing in Indonesia — where 40 Aussies remain unaccounted for, then Thailand (39), the US (38) and the Philippines (32).
The Thailand advisory highlights the risks involved in hiring motorcycles and jet skis, and warns of "scams and more serious criminal activity".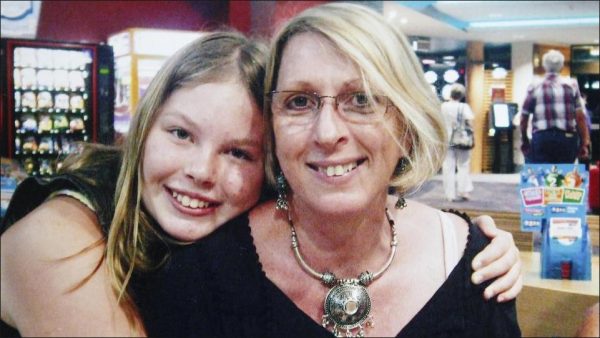 Holiday makers Noelene Bischoff and daughter Yvana poisoning in Bali in 2014 by Balinese just for kicks
Aussie deaths in the Third World (2015-2016)
Thailand — 168
Philippines — 101
Indonesia — 93
Vietnam — 62
China — 43
Cambodia — 33
Aussies injured or hospitalised (2015-2016)
Thailand — 157
Indonesia — 144
New Caledonia — 72
Vietnam — 68
Philippines — 66
China — 61
India — 44
Aussies Missing (2015-2016)
Indonesia — 40
Thailand — 39
Philippines — 32
India — 22
Fiji — 21
China — 19
Singapore — 15