Scottish Crofters victims of more 'Highland Clearances'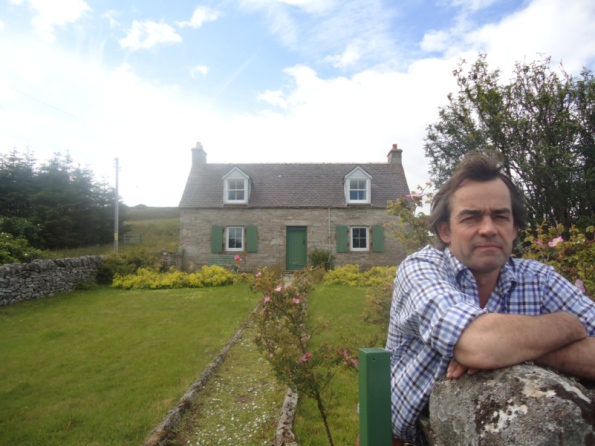 Sutherland's crofter Jeremy Gow has lost the tenancy on the croft to the bureaucrats.  Land that has been in his family since 1954.
.
An Antiques specialist has claimed he is the victim of a "21st century Highland clearances" as he faces eviction from the croft that has been in his family for 60 years.
Jeremy Gow is one of dozens of crofters who have fallen foul of a drive to enforce Scottish Government legislation.
Crofting law, administered by the Scottish Government quango the Crofters Commission, says that crofters must be "ordinarily resident" within a 32km radius of their croft.
The father-of-two, who runs an antiques restoration business outside Forfar, Angus, is furious that he is to lose the land that he once regarded as his children's inheritance.
Despite Mr Gow making regular visits to the croft on the Melness Crofting Estate, near Tongue, and having business interests in Sutherland, he says he is a victim of the SNP Government's tightening of crofting laws to tackle absenteeism.
"I am a Scot, who is losing his land," Mr Gow said.
He claimed he was being "hounded out" of his croft, when other crofters were being overlooked, including some who spend most of their time on mainland Europe or in Canada and the USA.
"The truth is that I am no more absent that anyone else," Mr Gow said. "I am up there a lot of the time, but I can't run my antiques business from there."
In recent years, the Scottish Government and the publicly funded Crofting Commission has presided over a tightening of the law after a report by Professor Mark Shucksmith recommended cracking down on absentee crofters.
Mr Gow, however, feels strongly that Roseanna Cunningham, the environment minister who has overseen the move, is penalising those who cannot make a full-time living from the land.
"Roseanna Cunningham has not been prepared to listen to the people and she has not taken into consideration our point of view. I have written letters to the Crofting Commission and they are not even prepared to meet me or visit the site and that's despicable," said Mr Gow.
He took the precaution of buying his croft house, but the loss of the four acres that surrounds it is still a bitter blow.
"It is like a 21st century Highland clearances," Mr Gow said. "It used to be that people were moved out by the big estate owners, who wanted to get people out of the way. This is another form of it."
His case has been taken up by Scottish Lands and Estates, the body representing land owners and rural businesses. Drew McFarlane-Slack, Highland regional manager of Scottish Land and Estates said: "This is using a sledgehammer to crack a nut."
Nick Reiter, chief executive of the Crofting Commission, did not comment specifically on Gow's case.
However, he said: "The legislation puts certain duties on the crofters and croft tenants in terms of residency and use of the croft. There is a long process if those duties are not being met in which the crofter can remedy the situation. So they have lots of opportunities to do something about it. If they don't do anything, the commission has a duty to terminate their lease."
Next month, Mr Gow will be forced to give up his croft, which stands in a spectacular location overlooking the Rabbit islands on the far northern coast of Sutherland.
Every summer during his childhood, Scot Jeremy Gow and his parents, would load up their Austin Maxi for a gruelling eight-hour drive. Their destination was his grandmother's holiday home in Melness, a small Scottish village on the north coast. There he would spend an idyllic month building sandcastles, fishing for mackerel and being beaten at racing demon by Granny.
He was so entranced that after each trip he would write a thank-you letter to "Croft Granny", so named because, since 1954, she had been tenant of one of about five dozen crofts, or Highland smallholdings, on the Melness estate.
When Jeremy reached 18, his grandmother bequeathed him the tenancy of the four-acre plot. Now 47 and a furniture restorer, he has carefully maintained the building, updating the detailed record of improvements that she had kept under the heading "Progress Report".
Over 30 years, he has planted trees and regularly visits with his family. It was where his two daughters took their first steps and he hoped they would one day inherit it.
But next week, regulators will terminate Gow's tenancy. He is among the first of more than 1,600 people who either rent or own a second home in northern Scotland who could lose the land surrounding their properties in what has been dubbed "the second Highland clearances".
The situation does not bear comparison with the brutality of 200 years ago, when landowners set fire to homes in order to clear their estates for more profitable sheep farming.
But feelings among the group, some of whom can trace their families back to the Clearances, range from devastation to anger. They are being penalised because they live more than 21 miles away from their croft properties, and are deemed not to contribute enough to community life.
.
Compatriot Support:
.
oldbob, 11/29/2012:
"Well done to the Scots for doing this.
In England we should do the same with areas of the UK blighted with second homes. In places like Cornwall the economy is twisted by rich Londoners buying up properties to be used for just a few weeks every year. Locals are priced out and the economy suffers."
.
ExasperatedMe, 11/28/2012:
"Keep the land and the house for locals, not holidaymakers.  Rural areas have been turned into dormitories by people like him."
.
garthbanks, 11/27/2012:
"If there are employment opportunities ad good telecommunications then there is no need for a croft to remain unoccupied, but on the other hand if there are no jobs , bad telecommunications, bad roads, infertile land then crofts should be allowed to remain as is, they are not a drain on community resources in fact the cost of bringing in a support infrastructure with schools, hospitals, roads, shops, businesses who can work profitably in the area is substantial and is unlikely to provide a positive return.
EU subsidies will more than likely be cut back.
Rather than kick the crofters out why not provide some support in providing a contribution. I am sure that a building company would be prepared to build houses on the land, but for whom and what purpose. I suspect the plan is a pipe dream and not thought through in a joined up manner.
Save money close the ministry!"
.
scott_east_anglia, 11/27/2012:
"… therefore nullifies any right he has" ??
…Testicles!
The point is that the landowner is not the one making the decisions.  Bitter and twisted little politicians are arrogating themselves the right to interfere in other peoples' affairs.
It is none of their business, and they need to be put back into their box.
..Nasty little envious green-eyed lefties have always believed that they should have a say over how other people should dispose of their property and wealth.
They should create their own wealth and then abuse it, if that is what they want.  Other peoples' is none of their business.
Is that a gibbet lamp post beside that house?
There must be an opportunity for human rights lawyers to bring these little shits gits under control."
.
http://www.scotsman.com/the-scotsman/scotland/scottish-government-accused-of-21st-century-highland-clearances-1-2576018
.