Traditional Woolwich allowed to descend into a Black Muslim Ghetto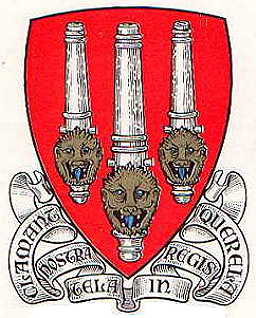 Smiling Blair invited the Black Muslim scum in, but Cameron has held the drawbridge open to the African invasion of mother Britain.  He knows nothing and thinks that he knows everything. That points to a political career. (Shaw)
Britain was just fine before the scum invaded.  The ugly racism belongs to the arrogant invaders.  Islamophobia is a myth.  There is no fear of the scum, just anger and resentment against them and the traitors who let them invade our British Isles.
Look what the black trash have done to Woolwich!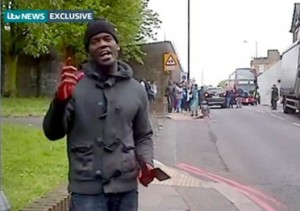 Reintroduce Capital Punishment to Britain.
May this wicked black bastard and his scum Islamist accomplice be the first for Britain's Firing Squad  – social media witnesses welcome.
A serving soldier, a British Army cadet on his home soil, outside his home barracks, gets run down and set on by two black Muslims from black Nigeria with butchers knifes and a firearm and attempt to behead the soldier – in broad daylight in front of local people as a Muslim lesson to revenge their fucking Allah.
The Jihadist murderers shouted 'Allah Akhbar' (God is Great).  Well they can fuck their Allah and Muslims need to be goat herded off British soil – the Jihadists, the Burka and Nijab wearers, the passive Muslims, their immigrant families, the lot!
Islam is evil and has no place in Christian Britain.
Muslims and Blacks have invaded and destroyed traditional Woolwich in East End London. They are unemployable.  They are violent gangs of hoodies with knives that roam the dark streets, terrorising the neighbourhood and costing London's police, court and prison resources.  Who needs them and their arrogance, violent crime and misfit culture?
Woolwich suffers from high levels of violent crime and an existing Labour Councillor has described the Woolwich ward as the 'murder capital of Greenwich'. However, not only have the Labour run Council failed to improve local safety but are planning to take even more police off the streets.
Documents seen by local Conservatives suggest that the Labour Council, if re-elected, will dismantle the Violent and Organised Crime Unit based in Woolwich to cut costs. This is a force specifically tasked with protecting the public from street and gang related violence. This decision is evidence of Labour's unwillingness to accept the reality of the problem in Woolwich. When coupled with their refusal to work with the Mayor's Office to develop a strategy to fight the violent crime problem, it becomes clear that not only are the Labour Councillors failing in their responsibilities but consider their political interests more important than Woolwich's safety.
During the 2011 England riots Woolwich, on Monday 8 August, was one of the areas attacked by Black Muslim rioters. Several buildings were destroyed including Blue Inc., the famous Great Harry Wetherspoons' Pub and Coral bookmakers, and many local shops were looted or damaged, including Nando's, Charles Dance (the oldest jewellers in Woolwich).
Solid men of Britain, if you are not prepared to use force to defend our civilised society, then be prepared to accept Muslim barbarism (Sowell).
These immigrant inbred black criminals who call themselves the Woolwich Boys need deporting back to ethnic Africa.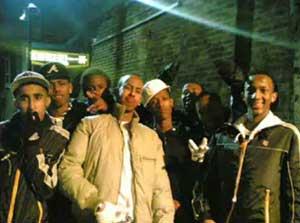 Ben Hitchcock, 16, died after he was stabbed in a fight in Southend Road, Beckenham, on June 23.   Eyewitnesses described youths wielding metal chains, poles and pick-axe handles in the fight, thought to have involved two gangs from Penge and Lewisham.
In the early hours of June 23, youths, believed to be members of the Woolwich Boys and T Block, fought outside the Mermaid club in Woolwich High Street.
Two 16-year-olds were stabbed and gang members then took part in a running battle across General Gordon Square in Woolwich town centre, using metal rods and rubbish bins as weapons.   One victim was stabbed multiple times and was left with a punctured lung.  Two people were arrested on suspicion of causing an affray and released on police bail.
A further fight in Charlton Road, Charlton, on June 27 is thought to be linked to the Woolwich attack.  One victim required around 70 staples in his head after he was repeatedly hit with a hammer inside a convenience store. He also suffered 14 stab wounds.
Outside, youths believed to be from the Woolwich Boys and the Cherry Boys fought using cricket bats, golf clubs and knives.   Twenty one people aged from 15 to 20 were arrested at the scene.   Four of these were bailed pending further inquiries.
Two were charged with attempted murder and 15 with violent disorder The 17 who have been charged will appear at the Old Bailey on October 5.
On June 25, a 20-year-old university student was stabbed at least four times in the back after being attacked by a gang of up to 10 youths, believed to be from Kidbrooke's Ferrier Boys gang.   The attack happened next to the McDonald's restaurant in Eltham Road, Eltham.
Several doctors battled to save the man's life and he is now expected to make a full recovery.    Two 16-year-olds and a 19-year-old have been charged with attempted murder.
This black scum can fight their own turf war in rag head desert Somalia.  These foreigners have no rights roaming Woolwich, Greenwich, Lewisham, Southwark, Lambeth and Croydon across London.
Cameron is weak and COBRA is just Conservative Propaganda to placate the media.  The stench of Muslim appeasement already reaks like a tannery.
Draft Canon of Muslim Expulsion from Britain
Legislate for the re-introduction of Capital Punishment in Britain – by firing squad
Outlaw Islam as an extreme and terrorist cult across the British Isles
Demolish all mosques, starting with Woolwich Mosque on Plumstead Road
Outlaw Sharia Law and outlaw all Muslim courts across Britain – Sharia is dangerously gaining a legal foothold across London and Black Muslim urban ghettos in Manchester and Birmingham – undermining British Common Law
Ban the Koran and Muslim teachings as criminal incitement of violence and immoral practices such as female genital mutilation
Outlaw forced marriages and mandate custodial sentences for violence against women
Make rape a capital offence – more for the firing squads
Killing home invaders to be a legal acquittable defence for murder
Outlaw Halal Slaughter, and shut down retailers who deal in the trade
Outlaw Islamic dress in the Nijab and Burkah
Deport all immigrants who commit a criminal offence
Convert all permament visas to temporary visas, and terminate all permanent visas
Impose an English speaking and written test for all immigrants to Britain.  Any who fail are to be immediately deported to the country of origin.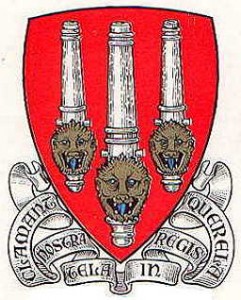 Woolwich's Motto:  "Our bolts sing in the quarrels of Kings"
Woolwich's proud heritage in its Royal Military Academy, founded in 1741, producing 'good officers of Artillery and perfect Engineers.'
There are 300 guns, from early Tudor cannon brought up from the Mary Rose to a section of the Iraqi supergun intended for Saddam Hussein – which looks much the same, only bigger.
The Royal Artillery has been in just about every battle the British Army fought since the gunners were founded in 1716, and has been intimately connected with technological developments, their story touches many aspects of history. The gunners have won 62 Victoria Crosses, of which 16 are in the Woolwich collection.
Woolwich is at the heart of Britain's Army and it has been invaded by the enemy.  Yet Labour and Conservatives alike have allowed foreign criminal scum to grow and fester in the streets around these proud barracks for decades.
It is time for more than just COBRA propaganda.  Platinum Command has acquiesced to Sharia for too long.  Britons cannot entrust defence of our way of life and sovereignty to Westminster's multiculturalism agenda.    Britons have a right to defend our soil, our homes and our families from this Black Muslim Terror.
It is time for Muslim Expulsion from the British Isles, and a few Missing Muslims may send a clearer political message.