Stormont headless chickens have Ulster priorities all wrong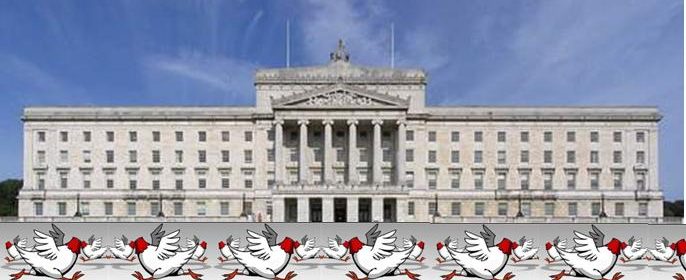 Stormont continues to let down the people of Ulster.
Poor governance and financial mismanagement are not delivering the promises and optimism of what has stalled for centuries, the long coming Good Friday Peace Agreement.
Instead party politics, verbal diarrhoea and arrogance have got Ulster's priorities all wrong.   Current head of the Democratic Unionist Party, First Minister Arlene Foster, is all talk and no action.  She couldn't be described as a 'leader'; just a figurehead.
Arlene Foster the Arrogant – considers herself the pre-ordained pre-Agreement Governor of Northern Ireland
A notional programme to save energy has distracted MLAs from delivering on the long awaited fundamental social and economic priorities for a desperately neglected Ulster,  situated on the outer fringe of the UK and Europe.
Equality, Respect and Reconcilation
Where is the implementation plan to deliver on the Good Friday Peace Agreement of 1998, the Northern Ireland PEACE programme of 2013, the Stormont House Agreement of 2014 and the so-called 'Fresh Start' of 2015?
How many more reviews and reports do these headless chickens have to waste time on before acting, seriously?
Back to basics…a key agreed tenet of The Good Friday Peace Agreement of 1998 reads:
"… the power of the sovereign government with jurisdiction there shall be exercised with rigorous impartiality on behalf of all the people in the diversity of their identities and traditions and shall be founded on the principles of full respect for, and equality of, civil, political, economic, social and cultural rights, of freedom from discrimination for all citizens, and of parity of esteem and of just and equal treatment for the identity, ethos and aspirations of both communities".
The identified priorities to 2020 being fostering peace and justice and reconciling legacy issues while affected people are still alive; tackling paramilitarism and organised criminality; cross-border cooperation; decommissioning of weapons; equality and respect for all; civil and cultural rights including reinvigorating traditional Ulster culture and the Irish language; combating poverty and welfare reform; promoting social cohesion; investment in children and young people;  shared education, spaces and services; economic investment into infrastructure starting with upgrading the Narrow Water Bridge.
Start with implementing just one of these.  That would be a start.
But the DUP and Arlene Foster have ignored these, instead idealistically distracted by the international climate change bandwagon or else filibustering or else indulging in personal perks.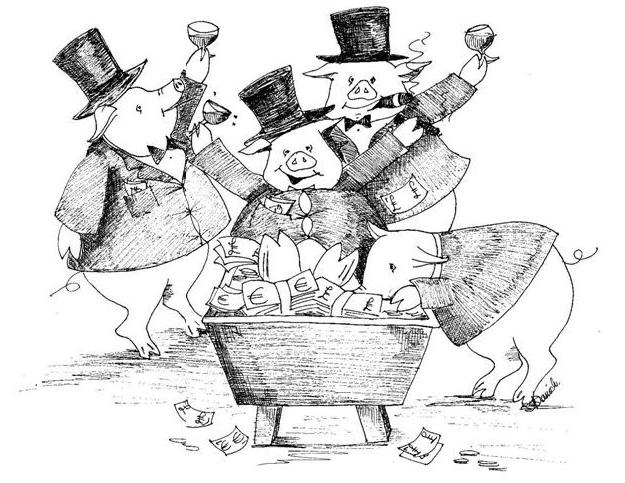 Stormont MLAs gave themselves a pay rise last March, for doing what?
Renewables are not a top priority for Ulster, only for ideological leftist Greens like Arlene Foster, who put idealism ahead of economic pragmatism and cultural nationalism.
Stormont Run by Headless Chickens
The DUP MLAs have wasted time in Stormont with infighting, verbal diarrhoea, avoiding decision making, avoiding making legislation – all while being overpaid and abusing MLA expense entitlements as if they think their are plantation overlords of old.
Read the DUP verbal diarrhoea in former head Peter Robinson's [FAREWELL SPEECH] in November 2015.  It's all rhetoric, fluff and congratulatory backslapping without saying anything.
Arlene Foster in 2012 as then Minister for Enterprise, Trade and Investment, was responsible for the Renewable Heat Incentive Scheme (RHI) from its inception until 2015.  It was only set up as a noble incentive to encourage businesses to switch from oil or gas to wood pellet boilers, to meet some arbitrary leftist Greens renewable energy targets.  No cost controls were put in place and warnings were ignored.
But renewable energy targets are not as critical as tackling paramilitarism and organised criminality which are being let continue.
In autumn 2013, a whistleblower contacted Arlene Foster's Department for Enterprise, Trade and Investment, warning of flaws with the RHI, which she claims overpays businesses and does not provide an incentive to be energy efficient. Officials at the department look into her allegations but they are dismissed.
In May 2014, unhappy with the lack of action, the whistleblower sends the following email – sourced by BBC News – to the department:
"What we are seeing on the ground in Northern Ireland is that buildings are using more energy than before because it pays them to do so.
The flat rate means there is no incentive at all to be efficient, so the heat in buildings is on all year round with the windows open everywhere.
"When we had spoken (in 2013) you did not believe that people would do this. But believe me it's happening.
"It's got to a stage where it cannot be ignored any longer."
Arlene Foster ignored the warnings and allowed the scheme to continue and for massive rorts to be allowed.
This has led to an enormously damaging pressure on our public finances and a crisis of confidence in the political institutions.  The scheme's abuse stands to cost taxpayers in the North in the region of £400 million, since dubbed the 'Ash for Cash Fiasco'.
Renewables is no high priority for the people of Ulster.
The scheme was poorly designed and implemented.  Subsidies paid to companies were not capped and the more heat a business generated, the higher the subsidy it received.
Arlene Foster, The Arrogant
Foster, a win-at-all-costs lawyer, knew the renewables initiative was flawed.  She allowed it to have no cap.  Now she dodges and weaves accountability because she simply is ministerially incompetent and financially illiterate – not her money.
Foster just plays politics, and crass misogyny politics at that.
She has rejected calls for an enquiry from the community and from opposition MLAs.  She has rejected repeated calls for her to step aside while an investigation is carried out into the scheme.
As First Minister now, Foster has a clear conflict of interest.  It is a fire of her own making, spreading to suck in all Ulster with it.  Conflict of Interest?  When she was Environment Minister, in 2007 she gifted a major project to a private developer Seymour Sweeney, a donor mate of the DUP.
Her arrogance puts her self-interest ahead of Stormont and the Agreement.  Arlene Foster is a bad apple letting down the reform process and ultimately the people of Ulster. Foster is about Foster. Her personal ambition and arrogance ignores due process, comparable in many ways to UK Labour's much maligned egotist Jeremy Corbyn.
Foster arrogantly uses the woman card:
"A lot of it personal. There's a lot of it, sadly, misogynistic as well because I'm a female, the first female leader of Northern Ireland.  Just because I'm a woman doesn't mean I'm going to roll over to Sinn Féin."
Foster has ignored calls from Sinn Féin and others to step aside, culminating in Deputy Minister (Sinn Féin) Martin McGuinness' resignation.
So Foster's incompetence, denial and petulance over one mismanaged low priority scheme has unnecessarily placed power sharing in the North on the brink of collapse.
It comes at a time of considerable economic uncertainty for Ulster in the wake of Brexit and the threats of recession, inflation and job losses as the UK withdraws from lucrative EU markets.  Ulster needs political stability, not another election which will only distract Stormont and further delay implementing the promises of the 1998 Good Friday Agreement.
It is wholly consistent that the DUP was the only major political group in Northern Ireland to oppose the Good Friday Agreement, central of which are civil and cultural rights, decommissioning of weapons, justice and policing.
The DUP and Arlene Foster have ignored all these central tenets.  Instead she has carried on as if a UK residential governor imposing direct rule on the basis that Northern Ireland remains part of the United Kingdom, like a dominion where policies are dictated out of Westminster.
The Agreement has left the issue of future sovereignty over Northern Ireland open-ended. the obscure position title of 'First Minister' is a phony.  It is no more than a euphemistic re-labelling of 'Governor' still performing the administrative function of direct rule from Westminster with no autonomy or independence for Ulster.
Back to Ulster Priorities, when?

Deputy First Minister Martin McGuinness has fallen on his sword as his only last fight to honour the Agreement and the people of Ulster.
On January 10, 2017 he tendered his resignation to the Assembly speaker Robin Newton.
Deputy First Minister Martin McGuinness Resignation Letter (verbatim)
"Over ten difficult and testing years, in the role of deputy first Minister, I have sought with all my energy and determination to serve all the people of the north and the island of Ireland by making the power-sharing government work.
Throughout that time, I have worked with successive DUP First Ministers and, while our parties are diametrically opposed ideologically and politically, I have always sought to exercise my responsibilities in good faith and to seek resolutions rather than recrimination.
I have worked tirelessly to defend our peace process to advance the reconciliation of our community and to build a better future for our young people.
At times I have stretched and challenged republicans and nationalists in my determination to reach out to our unionist neighbours. It is a source of deep personal frustration that those efforts have not always been reciprocated by unionist leaders. At times they have been met with outright rejection.
The equality, mutual respect and all-Ireland approaches enshrined in the Good Friday Agreement have never been fully embraced by the DUP. Apart from negative attitude to nationalism and to the Irish identity and culture, there has been a shameful disrespect towards many other sections of our community. Women, the LGBT community and ethnic minorities have all felt this prejudice. And for those who wish to live their lives through the medium of Irish elements in the DUP have exhibited the most crude and crass bigotry.
Over this period successive British Governments have undermined the process of change by refusing to honour agreements, reusing to resolve the issues of the past while imposing austerity and Brexit against the wishes and best interests of people here.
Against this backdrop the current scandal over the Renewable Heat Incentive (RHI) has emerged.
It is my firm view that the DUP's handling of this issue has been completely out of step with a public mood which is rightly outraged at the squandering of public money and the allegations of misconduct and corruption. The public are demanding robust action and accountability but the DUP, in particular its leader Arlene Foster, have refused to accept this.
The DUP leader has a clear conflict of interest. She was the minister responsible for the RHI scheme at its inception. No cost controls were put in place and warnings were ignored. This has led to an enormously damaging pressure on our public finances and a crisis of confidence in the political institutions.
The minister responsible for the RHI scheme should have no role in overseeing how this will be rectified.
There are significant conflict of interest issues and I have urged Arlene Foster to stand aside without prejudice to ensure confidence in the necessary investigation and in the wider public interest.
These institutions only have value if they enjoy the confidence and support of the people they were established to serve. They only have meaning if they are delivering fairly for all our people based on the principles of equality and mutual respect on which they were founded.
I have sought to maximise the potential of the institutions for forward progress in a society emerging from bitter conflict.
But the refusal of Arlene Foster to recognise the public anger or to exhibit any humility in the context of the RHI scandal is indicative of a deep seated arrogance which is inflicting enormous damage on the Executive, the Assembly and the entire body politic.
The First Minister has refused to stand aside, without prejudice, pending a preliminary report from an investigation.
That position is not credible or tenable.
The Irish and British governments have internationally binding obligations to uphold issues of equality and parity of esteem. They need to fulfil these obligations.
Therefore it is with deep regret and reluctance that I am tendering my resignation as deputy First Minister with effect from 5pm on Monday, 9th January, 2017.
In the available period Sinn Fein will not nominate to the position of deputy First Minister. We now need an election to allow the people to make their own judgement on these issues democratically at the ballot box."
Yours Sincerely
Martin McGuinness MLA
Deputy First Minister