The Nationalism Project – Scotland
This is an extract of The Nationalism Project, an impressive collection of scholarly resources related to the study of Angloceltic nationalism including leading definitions of nationalism, book reviews, web links, subject bibliographies, a bibliography of more than 2,000 journal articles, and much more.
The site was created in 1999 by Eric G.E. Zuelow, currently Assistant Professor of European History at the University of New England in Biddeford, Maine, America.
This article extract concerns nationalism specific to Scotland.
Politics

Free Scots: A social/political/economic/historical discussion list covering many subjects of potential interest to anyone with a tie to Scotland, or residing there. A very active and controversial list exploring the idea of an Independent Scotland; and the route to get there..across the political spectrum, and the world.

Political Parties/Nationalist Organizations

Scottish National Party (SNP): The major nationalist party in Scotland. The SNP has enjoyed considerable support throughout Scotland, though especially among younger voters. The SNP focuses on "economic" arguments for Scotland's independence and has gained considerable support with slogans such as "It's Scotland's Oil." The SNP won its first Parliamentary seat in 1967 and has never had more than 11 seats at any given time.

Scottish Liberal Democratic Party: The Scottish wing of the Liberal Party. This group has done fairly well in Scotland and tends to pick up votes from those who are unwilling to vote SNP (for whatever reason) or Labour. The Lib-Dems have done much to forward calls for Devolution for Scotland.

Scottish Conservative and Unionist Party: After the last election, the Unionists have no seats in Scotland for the first time in history. They are British, as opposed to Scottish, nationalists as implied by the name Unionist. Formally conservative districts have frequently swung to the SNP (as seen in Perth-Kinross).

Scottish Green Party: Similar to other European Green parties. The Green's have not made a major impact on the Scottish political scene to this point.

Siol nan Gaidheal. The Scottish Cultural & Fraternal Organization:  This is the third incarnation of this organization.  Initially formed in 1979, the group proved popular with right of center nationalists.  When an arm of the group spun off to form Arm nan Gaidheal and became involved in a number of petrol bombings, the group was banned from the SNP and disbanded shortly thereafter.  Siol enjoyed a second incarnation in the 1980s and then was revived again in the mid-1990s.  This is a graphics heavy website and contains a fair bit of java so expect slow load times.

Scots for Independence: "This site is run by a group of like-minded Scots dedicated to the cause of Scottish Independence." The group argues that "Our sovereign nationality of well over a thousand years is being eroded more and more each day. We are taught that we are 'British', not Scottish, whatever that means. We view the progress so far of our "devolved parliament" as a pathetic talking shop, with severe limitations upon its independent actions." Among other features, the site includes a collection of intensely nationalist articles, links and several historical documents.

Nationalism

Scottish Politics Page: A pro-SNP site which provides opinion poll information and an interesting look at the Nationalist argument.

The Development of Scottish Nationalism: This is a very well-received 2nd term university project in social history, on the development of Scottish nationalism. The project was finished at the 21st of May 1997 at Aalborg University, Denmark, under the (perfunctory) supervision of Robert Chr. Thomsen, by the following people: Carsten Hammer Andersen, Lars Christensen, Marianne Stig Nielsen, Mads Orbesen Troest.

Scottish Nationalism: A brief introduction to the Scottish National Party. Focuses on reasons for SNP support (or lack thereof), ethnic dimension of Scottish nationalism, etc.

The Scots Independence Tour: The personal homepage of one of the Web's more outspoken Scottish Nationalists. Provides a useful account of the nationalist argument for Scottish independence.

Tourism/Heritage

Scottish Tourist Board: One of the major organizations promoting Scottish tourism. The site provides a clear look at how Scotland is being sold.

Historic Scotland: Another of the major organizations promoting Scottish tourism and heritage. Again, this site provides a clear look at how Scotland is being sold. (Requires Shockwave for a complete viewing experience.)

New Lanark Conservation Trust: A heritage center focused on the industrial revolution as it impacted Scotland's Central Belt.

Scotland in Photographs: A collection of photos of Scotland.

History

Scottish Economic History Database: An excellent resource for those doing Scottish history. Contains: Crop Yields, Demographic Data, Price Series, Wage Series, and Weather Statistics for the years between 1550 and 1780.

Anti-English Activity on the Rise: Since 1992 anti-English violence has been increasing in Scotland. This is an article from The Scotsman which quotes a Scottish historian concerned with the trend.

Culture

Irn-Bru: Scotland is the only country in the world where Coke is not the number one soft drink. Instead, that title is held by Irn-Bru and orange colored beverage which targets the central-belt Scottish hard-man image with the slogan: "Made from Gerders."

Scottish Literature at University of South Carolina: Link to literature program focusing on Scottish literature. (A rare program in US universities!)

Stuart Titles LTD.: Scotland's tartan myths and history is big business in Scotland. Here is one of many businesses trying to capitalize on it.

News organizations

The Scotsman: One of Scotland's oldest and most respected daily papers. Based in Edinburgh.

The Herald: The Glasgow-based competitor to The Scotsman.

Shetland News: A local paper focusing on Shetland island news.

The Press & Journal: One of Scotland's oldest local papers. This paper covers the Northeast and is based in Aberdeen.

The Sunday Post: A more respectable tabloid-style paper.

Scottish Internet Radio: A Scottish radio station broadcast over the Internet. Includes various talk shows and some Gaelic programming.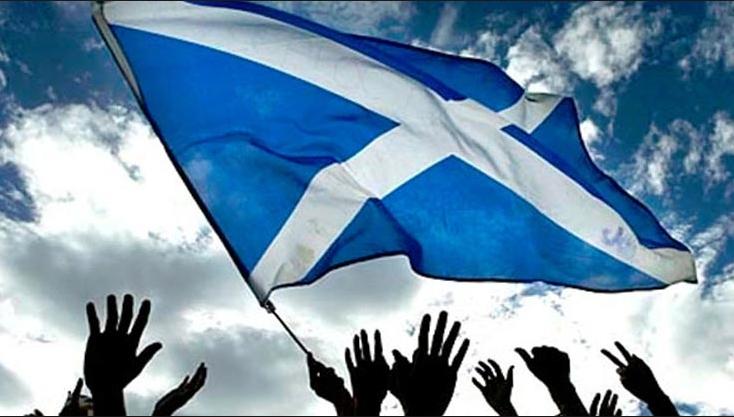 Source: http://www.nationalismproject.org/links/scotland.htm