Australia starts deporting Apex Gang niggers terrorizing Melbourne

'The Only Thing Necessary for the Triumph of Nigger Evil is that Good White Men Do Nothing'.   Just four Apex Machete Gang niggers are to be deported from Melbourne back to the barbaric Third World from whence they came.  One is Sudanese and three are Pacific Islanders who smuggled themselves to Australia via the New Zealand pipeline.
"It's four down, but an epidemic infestation still to go."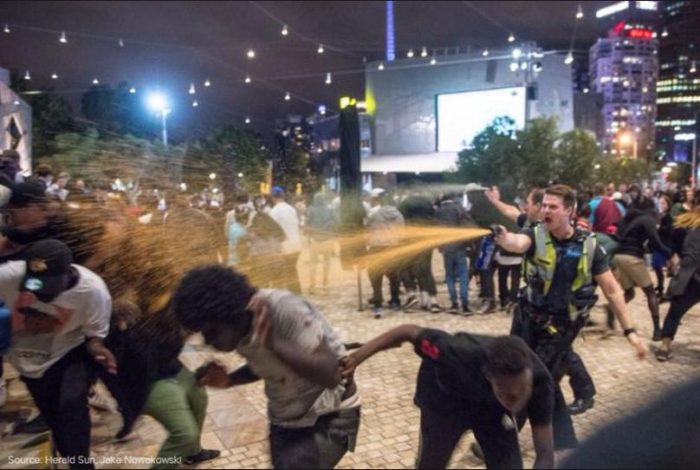 Reportedly other refugee niggers in Melbourne's newly created nigger ghetto of Apex Street in North Dandenong are to be expelled once they have served prison sentences for crimes including violent assaults, armed robberies, home invasions and car jackings.
Clearly their welfare payments aren't enough to support their drug and junk food addictions, even after receiving extra breeding entitlements.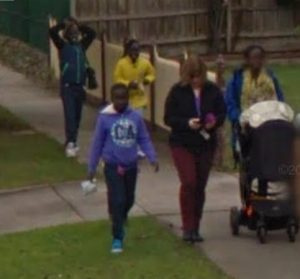 They ought be all deported yesterday.
How many more innocent local Melburnians need to be mugged, home invaded, car jacked? The Third World refugee programme has ostensibly failed catastrophically.  And Australia ought deduct the total socio-economic cost from its over-generous annual $5 billion Foreign Aid Budget.
When these so-called 'children' (leftist apologetic term) are incarcerated in low security youth detention centres, they riot.  Melbourne has experienced four detention centre riot in the past six months at detention centres since the round up kicked in – three at Parkville and one at Malmsbury.
The scum deserve to be in irons tending sewage farms until their one-way flight back to deepest darkest is ready.
So how did immigration let them in on criminal or character grounds in the first place?
Well many immigration staff are Third World immigrants themselves and so corrupt, prejudiced and couldn't give a shit.
Apex nigger Henry Robati (19) was deported to New Zealand in April 2016, with a never returned status on Immigration's database.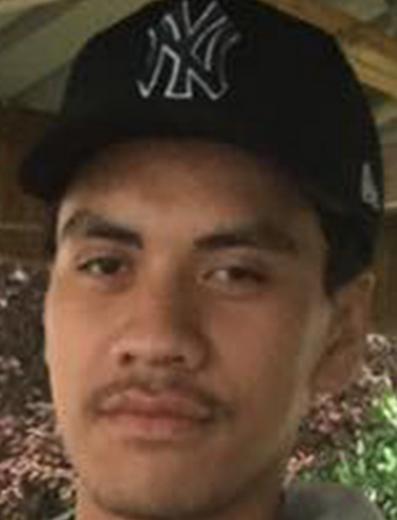 Coconut Robati, gonski!
Sudanese bootlip Issac Gatkuoth (19), was sentenced last May to 14 months in a youth detention centre over a drug-fuelled carjacking in Frankston South the previous November.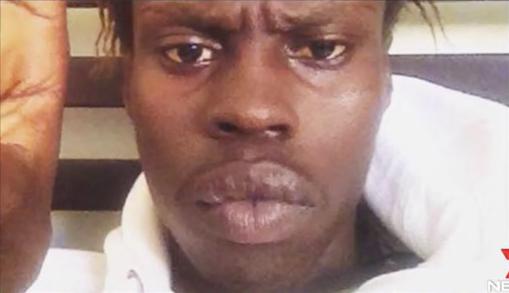 Gatkouth da Bootlip, one way ticket back to Sudan booked

Gatkuoth, drugged up on ICE was in a stolen BMW that rammed a Ford Falcon XR6 in Cranbourne Road in Melbourne's now notorious south-eastern suburbs.  The teen, his face masked by a red bandana, then pointed a sawn-off shotgun at the terrified driver's head.  The stolen BMW was later involved in a collision that killed mother of two Amanda Matheson.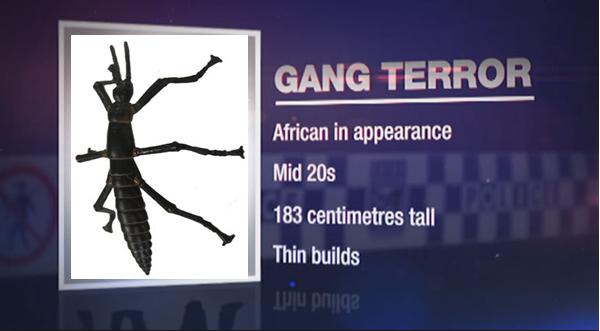 Melbourne black stick insect infestation
Comment by David Bowen (Sydney):
"Why aren't these guys being caught ? Surely they must stand out like a sore thumb."
9th January 2017:  African Apex gang members attack man with a metal pole before stealing his car keys outside of a gym
A local man was attacked with a metal pole outside a Melbourne gym on Monday, causing him to drop his backpack
He was leaving Anytime Fitness at 5.30am when he was assaulted by a gang
The men, believed to be Apex members, stole his keys and went through his car
The four fled the scene after a woman leaving the gym called police
Leading Senior Constable Lee Thomson said the males then took items from the backpack, including car keys, before approached a woman in her car, who locked herself in her car and called police.
The men fled the scene before officers arrived.
Police have described the men as of African appearance and are urging any witnesses to come forward.
14 January 2017: Brazen 'African Apex gang members' storm exclusive Melbourne jewellery store for the second time in three months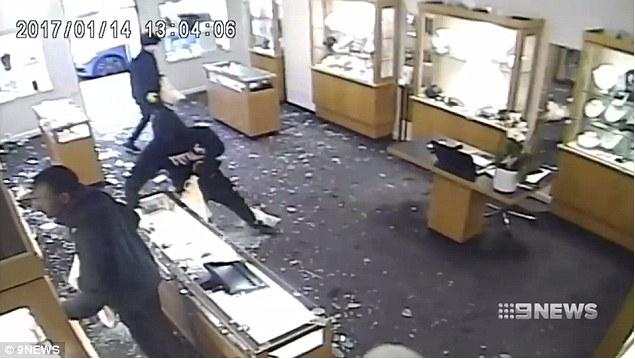 CCTV footage shows the robbery of the IMP Jewellery shop in Toorak Village
The robbers shower a jewellery store with glass after smashing the cabinets with hammers
One of the four men bludgeoned a staff member with the butt of a firearm
The same store was robbed in a near identical incident in October
They flee the scene with a large collection of jewellery in a getaway car, eluding police.
Several staff members at the Toorak Road store were present at the last robbery, with one only just returning from stress leave
Police gave chase for eight kilometres through South Yarra and Richmond before abandoning the pursuit when dangerous speeds were reached.
All four men are described as being of African appearance and believed to hold ties to the notorious Apex gang.
Store owner Tony Fialides, who hit headlines chasing the armed thieves out of his shop during the previous raid, has told of his shock at Melbourne's scourge of nigger crime.
'I'm incredibly disappointed…I've had people from interstate and overseas saying: 'What's going on in Victoria?'
Apex are behind a wave of violent car thefts, home invasions and robberies across Melbourne, sparking a taskforce to be launched specifically to tackle the gang.
Comment by Jim John Jackson (Sydney): 
"You know what makes me laugh though; The Melburnians are so left wing they won't do anything to chase them up because Apex are predominantly Black. Had this been a Bikie group, there would be a national uproar and legislation to fill a Horses trough."
12th January 2017:  Woman in shock after violent Brighton carjacking
A violent carjacking in Melbourne's south-east has left a woman injured and in shock.
Danielle tells Radio 3AW's Tony Jones she was followed along St Kilda Road in the exclusive suburb of Brighton, before she was cornered.
"It happened in seconds."
Danielle (42) went out late, around 12.30am, to get some dog food when she noticed the car following her.
She stopped on a backstreet and tried to run for help.  She says she attempted to run to a nearby home for help when four men of African appearance 'jumped' her.
"I managed to throw my phone into someone's garden."
Danielle says she pleaded with the men, but they repeatedly punched her in the head and shouted, "Give me the f—ing keys!"
"They punched me in the face, I've got a black eye and they pulled my hair, I'm just sore."
"I'm so scared, I've never been so scared in my life.  Such incidents are becoming so common now", Danielle said.
"We live in Melbourne, not in Johannesburg. It's becoming the norm and this is ridiculous," she said.
Listen to her account on the local Melbourne radio station: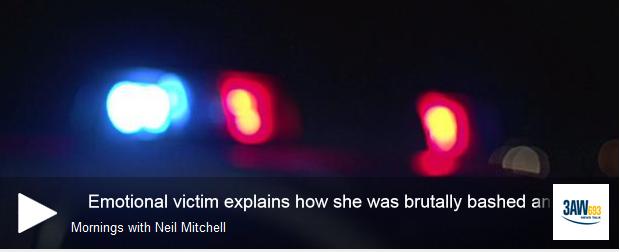 Police said the group of men fled in the red Corolla and within minutes collided with a 55-year-old female driver at the nearby intersection of Glen Huntly Road and St Kilda Street in Elsternwick.  The woman was not injured but the gang quickly split up and stole the 55-year-old's Holden sedan as well.
The suspects have not yet been found.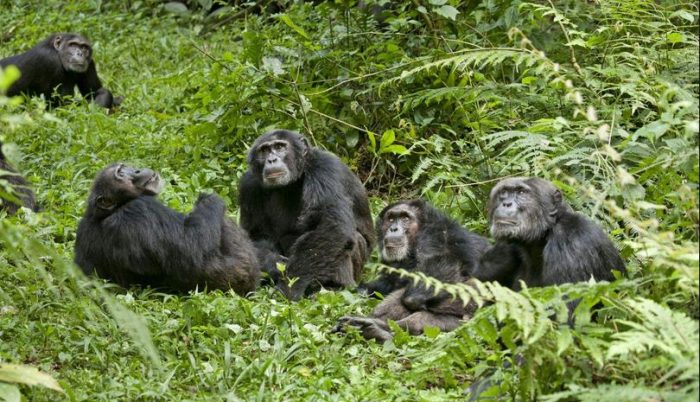 So has anyone checked Apex Street in Dandenong North?  Niggers like bright colours, especially red. Tell 'em you're delivering pizza.  Niggers are addicted to junk food.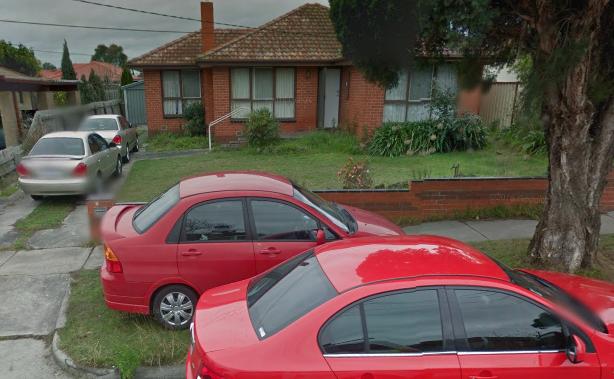 It is about time local vigilantes sorted out Apex Street sooner than later.  Plenty of solid limbed paperbark trees along Apex Street.