Secret report warned of migration meltdown in Britain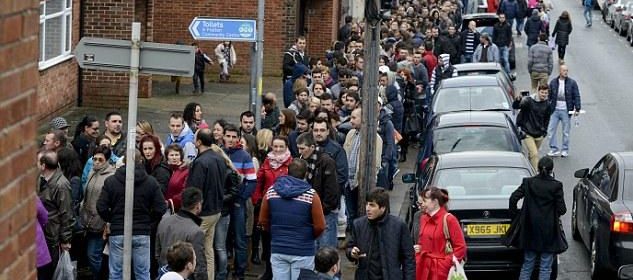 Britain 2006: 
"A massive rise in immigration next year could trigger a devastating crisis in Britain's schools, housing and welfare services", according to a leaked secret Government report.
The document reveals that every Government department has been ordered to draw up multi-million-pound emergency plans after being told public services face catastrophe as a result of the hundreds of thousands of Eastern Europeans pouring into Britain.
It also warns that a 'step change' in the level of immigration next year could make things even worse, triggering an angry backlash across the country.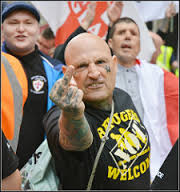 Local Resistance
The new wave of immigration is causing as much social strife in Eastern Europe as it is in Britain.  Poles are dumping children in local care homes so they can travel to Britain. Some reportedly killed themselves after being left behind.
The leaked document, written by Home Office Minister Joan Ryan, is entitled 'Migration From Eastern Europe: Impact On Public Services And Community Cohesion'.
In stark contrast to the Government's repeated assurances that immigration is under control, it warns:
Ministers may be forced to abandon their refusal to grant council houses and welfare benefits to 'work-shy' new arrivals, creating what Ms Ryan describes as an extra 'pull factor' attracting further immigrants seeking handouts.
A new army of English language teachers is required to deal with a huge rise in the number of Eastern European children since last September.
East European immigrants living rough are becoming drunk and aggressive, and flooding homeless hostels.
The influx of cheap labour is forcing British workers to take pay cuts with 'serious implications' for social tension.
East European patients are 'blocking' hospital beds because they are ineligible for social care and benefits if they leave.
Towns and cities hit hardest by the new immigration are demanding millions of pounds of extra money to cope.
The document, marked 'restricted', was written by Ms Ryan on July 19, the day after she submitted a separate report warning that 45,000 'undesirable' migrants from Romania and Bulgaria may settle in the UK when the two nations join the EU next year.
The number of immigrants to Britain since Poland and seven other East European countries joined the EU two years ago is now put at 600,000, compared with the Government's original prediction of between 5,000 and 13,000 a year. Ministers expect this number to rise by up to another 140,000 next year.
Warning of potential chaos for schools, housing and health, Ms Ryan's report says: "All departments have been asked to consider contingency plans…in case of a further step change in the number of new migrants."
One of her biggest fears is that the courts may force the Government to scrap its restrictions on East European immigrants applying for council houses or benefits. At present, they receive some benefits only if they register for work – which one in three don't do – and earn full benefit rights after they have worked for a year.
Ms Ryan says: "The legal basis for this is precarious and there is a strong risk of a successful challenge. This is a concern."
Many East European immigrants end up homeless, partly because of the welfare curbs. "This leads to antisocial behaviour, street drinking and aggressive begging' as well as 'tensions' between vagrants, the report warns.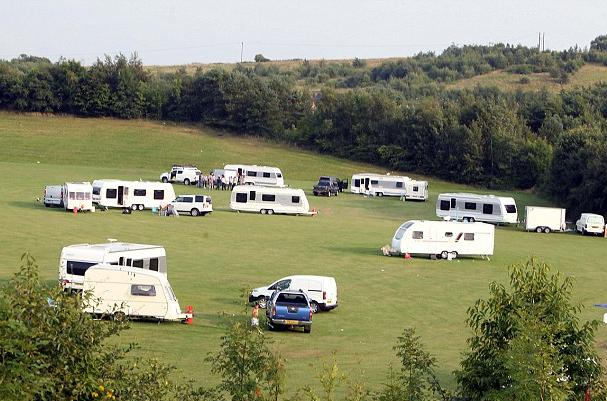 One in six places in homeless hostels in London is now taken up by Eastern Europeans, who often arrive with no plans for a job or home.
Ms Ryan says some councils are demanding an end to the ban on housing and other benefits so they can get people off the street. But the report warns that dropping the restrictions could create a new 'pull factor for people to come to the UK unprepared for work'.
Areas with the most East European arrivals – including Slough and parts of London – are demanding more cash for public services, says the report.
And schools desperately need more help following a sudden rise in the number of East European children, many of whom do not speak English. Some primary schools have accommodated up to 50 extra Polish children in one term.
Ms Ryan calls for action – and cash – to recruit extra English language teachers. "Schools often find it hard…because of large numbers of new arrivals," her report said.
The document says foreign workers have helped fill jobs other workers refused to do. But it adds: "There is anecdotal evidence, particularly from Southampton, a port of entry for Eastern Europeans, that the effect of migration…has been to depress wages for low-paid workers. If this were widely true, or that perception were to spread widely, the implications for community cohesion would be potentially serious."
There were few signs of social disorder involving Eastern European workers but they "feature increasingly in tension reports…and were a recurrent grievance from local Brits.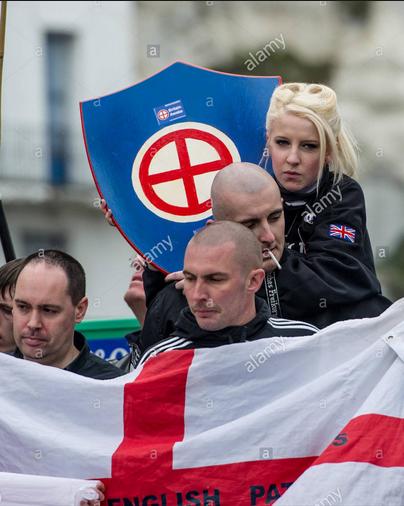 Some migrants are living in hospitals and mental health units because "there is no ability to provide access to benefits or housing in which on-going care duties could be met".
In conclusion Ms Ryan says: "There are areas in which strains are evident."
Despite the Government's underestimate of the number of migrants, public services had generally coped, the report concluded. But the expected influx of Romanians and Bulgarians meant that this "optimistic assessment may not continue to hold good in, say, a year's time".
…and it happened as forewarned…
Britain 2014:
So, the resulting truth from East European migration…
One in 30 Latvians are living in Britain, one in 60 Poles are also in Britain (mainly England).  Statistics show that since 2000 more than 2.1 million migrants mainly from Eastern Europe are now in the UK, with Britain handing out indiscriminate citizenship to more migrants than any other EU country.
(This invasion was the key driver of Brexit.)
The astonishing scale of Eastern European migration to Britain has been revealed by the independent Migration Observatory at Oxford University and is based on census data from across the continent in 2011.
Read More:  http://www.migrationobservatory.ox.ac.uk/
Figures released in August 2014 showed the number of migrants from the eight newly-joined  Eastern European countries working in Britain rose by more than a quarter in a year.
They show that 1.3 per cent of Eastern Europeans, notably Romanian gypsies and Bulgarians have also continued to increase. living anywhere in Europe – including in their native countries – are now in the UK – free NHS, free housing, free welfare cheques.
It means one in 75 of those born in eight former communist nations that joined the EU in 2004 is resident in Britain (again, mainly England) – and the true numbers are likely to be even greater as the figures are three years old.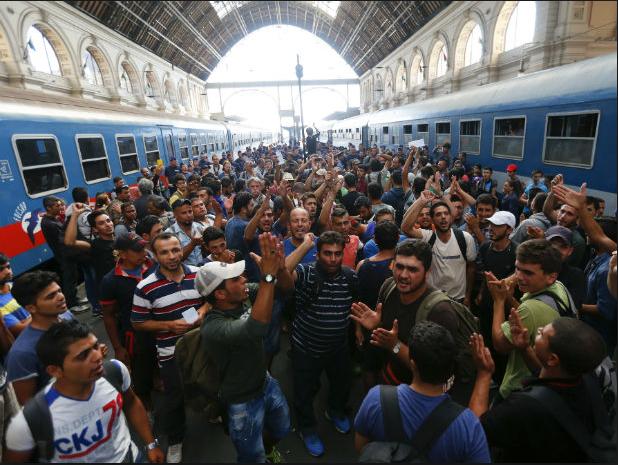 One in 30 Lithuanians in Europe now lives in Britain, as do one in 30 Latvians, one in 60 Poles and one in 200 Hungarians.
Since the statistics were recorded in 2011, Eastern European migrants have continued to flock to the UK.
Yesterday new figures also showed Britain is giving citizenship to more migrants than any other EU country – with 193,000 foreign nationals given passports in 2012.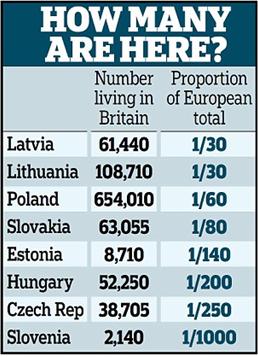 The influx has placed huge pressure on public services including the NHS, schools and housing. Immigration is now among the top two biggest concerns cited by the public in opinion polls.
Census data shows there are around 654,000 Polish nationals in the UK out of 41.5 million in Europe – meaning 1.6 per cent live in the UK.
The scale of the migration from Lithuania is even more stark. A total of 108,000 Lithuanians live in Britain, some 3.4 per cent of all those in Europe. Lithuania has a much smaller population at around three million.
A total of 61,440 Latvians live in Britain – or 3.2 per cent of the 1.9million anywhere in Europe.
For Slovakia the figure is 1.2 per cent, for the Czech Republic 0.4 per cent, Estonia 0.7 per cent and Hungary 0.5 per cent.
Between 2004 and last year, the population of Eastern European migrants in Britain rose by 544 per cent, from around 167,000 to 1,077,000.
EU migration has blown a hole in the Government's attempts to fulfill a pledge to cut net migration to below the tens of thousands, and helped fuel the rise of UKIP.
Britain's NHS can't cope and the UK government simply can't build enough houses to house them all.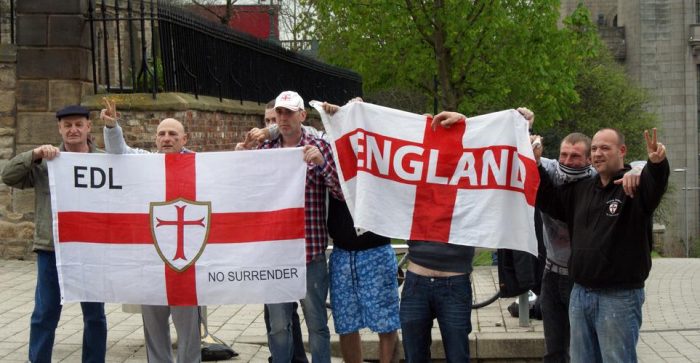 Read More:  http://www.englishdefenceleague.org.uk/